Corey Neilson impressed by Nottingham Panthers' 'honour'
Last updated on .From the section Ice hockey
Nottingham Panthers coach Corey Neilson said his team's "honour" played a huge part in the 1-0 Challenge Cup final win over Cardiff Devils.
Panthers secured their sixth Challenge Cup success in the past seven seasons thanks to Evan Mosey's overtime winner.
Neilson told BBC Radio Nottingham: "The guys played with commitment and honour.
"Honour is a word I have been using for a while. It is something I wanted to see in the team's identity. Part of the Panthers brand is playing with honour."
A goalless but absorbing three periods of regulation time saw both sides create numerous chances.
However, the only goal did not arrive until sudden-death overtime when Mosey's slapshot from the right circle flew past Ben Bounds.
Panthers Pride
Neilson added: "I just wanted the guys to play like warriors.
"I told them that if they put their bodies and their minds, and most of all their their pride, on the line, then they would be a hard team to beat.
"If players play with honour, then the team collectively plays with honour. And when a team plays with honour it plays like champions - and when you have that, with the depth and individuals and skills we have, you will not lose many hockey games."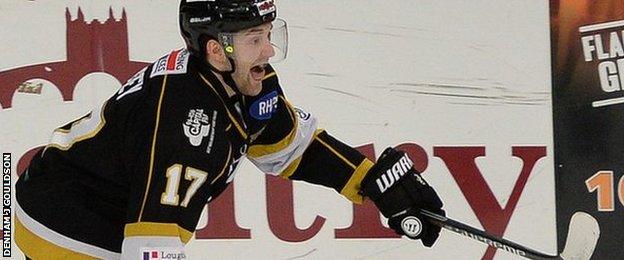 Matchwinner Mosey
Mosey said: "We have a great team in the locker room and the best fans in the league. It's unbelievable the group of guys we have. No one lost a step and we have great coaches.
"It's where we should be. We have been playing well of late and it's great to get the win."
Thrilling Elite League finale
Panthers are fifth in the Elite League table but are still in with a great chance of winning the title. They are six points off the top, with two games in hand on leaders Sheffield Steelers.
Steelers have 64 points, two points ahead of Cardiff who have played a games less and have 62 points. Braehead Clan are in third place, with 59 points from 48 games and Belfast lie fourth on 59 points from 47 games.