Sheffield Steelers release coach Gerad Adams despite title triumph
Last updated on .From the section Ice hockey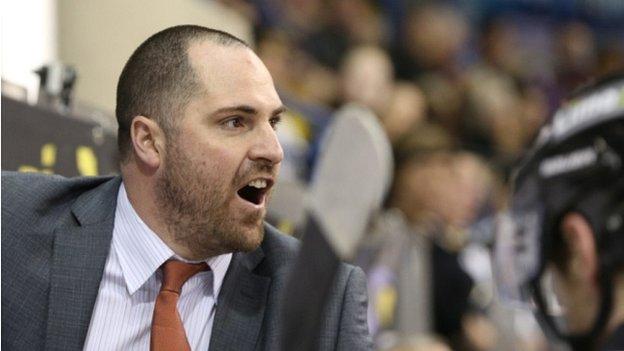 Sheffield Steelers have released head coach Gerad Adams, 36, from his contract, despite guiding them to the Elite League title last month.
In a statement, the club said the decision followed an end-of-season review of the direction the Steelers need to take in the future.
Next season, they will play in the Champions Hockey League, as well as all three domestic competitions.
"Maybe it's a culture change I am asking for," said owner Tony Smith.
The Steelers also reached the Challenge Cup and play-off finals under Adams last season, before losing to his former club Cardiff Devils and Coventry Blaze respectively.
Former favourite on the ice
Gerad Adams joined Sheffield Steelers as a player in 2003-04 and scored 16 goals to help them to a league and play-off double in that season. He equalled that tally the following year before leaving for Cardiff Devils.
However, the Canadian coached Steelers to play-off success.
"Winning the league title on the back of the previous years' play-off success is something Gerad should be very proud of," said Smith.
"The Steelers are - and remain - a great team. We feel now is the right time to push forward and ensure we are known in all hockey circles as a great club.
"Our new head coach will be responsible for this task. The Steelers will take the Champions League most seriously and as a club we want to build the foundations in Sheffield that ensures we are regular participants in this event."
He confirmed work was already "under way" to identify Adams's replacement, and new players to strengthen the squad for next season.
"I want an exciting Steelers side built on speed and skill. A team who can excite our fans for 60 minutes every night. I want the fittest, fastest and most competitive side here in Sheffield," Smith added.
"Modern day sport requires a team of full-time professionals, on and off the ice.
"If we are going to give our players the best possible chance to win we must back them off the ice and behind the scenes with the best staff available."