Edinburgh Capitals coach Richard Hartmann praised after revival
By Craig Anderson
BBC Sport Scotland
Last updated on .From the section Ice hockey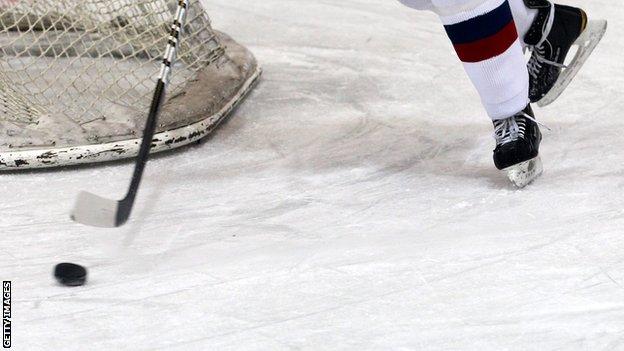 Greg Collins says his coach, Richard Hartmann, has played a big part of Edinburgh Capitals' recent revival after they notched up four point over the weekend.
The Murrayfield side did it the hard way with penalty shots defeating Dundee Stars and Hull Stingrays on Saturday and Sunday.
The Caps forward also revealed a change in attitude has been a key factor as his team made it five wins from their last six.
"Staying together as a team has made a real difference over the past month," he said. "There were one or two guys not quite on the same page, but we've really got it together now.
"Richard has had injuries to contend with previously, which there was nothing he could do about, but he's worked hard to keep us tight as a team.
"Plus, at the same time, he kept us positive throughout the bad spell, where we couldn't buy a win. For me, he's played a major role in our good form."
The 28-year-old American was Saturday's hero when his winning penalty shot at Dundee got the first of the two goals in the 2-1 win.
Dennis Rix found the net for the Caps inside the first 30 seconds, but the Stars levelled through Shane Lust in the second period.
Collins' success in the one-on-one situation proved to be the clincher as Kevin Quick's effort was saved for Dundee, confirming Edinburgh's win.
That golden touch continued into Sunday's home encounter with Conference rivals Hull Stingrays, but Hartmann's side had to work that little bit harder in the 3-2 victory.
Hull were two ahead in the opening period when Cory Tanaka and Yan Turcotte were on target to put them in pole position.
However, third-period goals from Richard Hartmann and Marcel Petran levelled the game, with Dennis Rix sealing the points with the winning penalty shot.
Weekend results
Saturday
Braehead Clan 7-3 Cardiff Devils
Dundee Stars 1-2 Edinburgh Capitals
Fife Flyers 2-3 Belfast Giants
Sunday
Dundee Stars 1-3 Cardiff Devils
Edinburgh Capitals 3-2 Hull Stingrays
Visiting Scotland this week were Cardiff Devils, who spanked Edinburgh 10-0 just last week and came north of the border high in confidence with five consecutive wins in the bag.
Their luck ran out at Braehead Clan on Saturday night, when Ryan Finnerty's team showed their dominance in a 7-3 win over the Welshmen.
Braehead were five up without reply at one point, courtesy of two goals from Stefan Meyer and singles from Derek Roehl, Neil Trimm and Scott Pitt.
Tyson March and Mark Richardson struck for Cardiff to claw their way back, but Roehl added Clan's sixth.
Andrew Hotham then pulled another back for the Devils, only for Pitt to kill it off late on.
The Devils made their way to Dundee on Sunday night, with the Stars still nursing that Saturday night hangover from the defeat to the Caps.
It didn't clear, though, as Cardiff returned to South Wales with two points, striking two late goals in a 3-1 win over the beleaguered Tayside men.
Joey Martin's first-period goal was cancelled out by Igor Gongalsky's reply for Dundee within the first couple of minutes in the middle session.
The match was finely poised until Joey Haddad and Jake Morissette both finished inside the final 10 minutes.
Fife Flyers took to the ice once this week and clinched second place in the Challenge Cup group, despite losing 3-2 to Belfast Giants in overtime in Kirkcaldy on Saturday.
Mike Kompon drew first blood for the Giants, but Scott Fleming cancelled out to level for the Flyers going into the first interval.
Bobby Chaumont put Fife ahead in the third period to separate the teams until Mark McCutcheon restored parity, with Calvin Elfring on target in overtime to seal Giants' win.
Despite the defeat, Flyers' associate coach, Danny Stewart, was upbeat and reckons there's plenty to be positive about.
"Performances like this show the progress we've made to be competing with teams like Belfast and a lot of our games have been against those top four or five sides," he said.
"But we're happy with where we are right now. Could we be higher? Yes, possibly, but any team could say that at this stage."