Russian 'miracle on ice' coach Viktor Tikhonov dies
Last updated on .From the section Ice hockey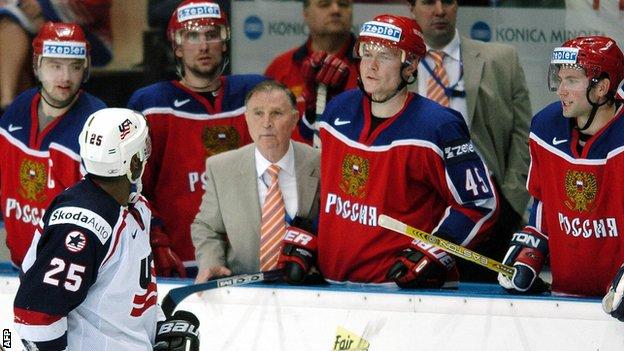 Russian ice hockey coach Viktor Tikhonov has died at the age of 84.
Tikhonov, who coached the Soviet Union to gold at the 1984, 1988 and 1992 Winter Olympics, passed away after a long-term illness.
He is remembered as the coach of the USSR team that lost the 'miracle on ice' game against the United States in a medal round game at the 1980 Games.
"Russian sport has suffered an irreplaceable loss," said a statement from the Russian Ice Hockey Federation.
Tikhonov guided the Soviet Union to eight world championships between 1978 and 1990.
As a player, Tikhonov won four Soviet titles between 1951-54 and guided CSKA Moscow to 13 consecutive Soviet titles between 1977 and 1989.
However, he was also closely associated with that embarrassing defeat to the US during the Cold War at the Lake Placid Games of 1980.
The match saw the heavily-favoured Soviets suffer a shock loss to an American side made up largely of college amateurs.
Rafael Saakov,
BBC Russian Service
"Viktor Tikhonov was more than just a coach for Russians. His achievements at CSKA Moscow and with the national team made him a legend in the eyes of compatriots. Even the 'miracle on ice' defeat did not prompt his bosses to fire Tikhonov. He repaid that faith by winning the next three Olympic titles - 'a winning record that will be virtually impossible to beat', said the International Ice Hockey Federation in a tribute. Some complained about his rigorous coaching methods and tough character - former USSR captain Slava Fetisov says Tikhonov did everything to stop him from moving to North America - for example. But Tikhonov was so devoted to hockey that he coached until he was 73."