Belfast Giants add two Northern Ireland players to roster
Last updated on .From the section Ice hockey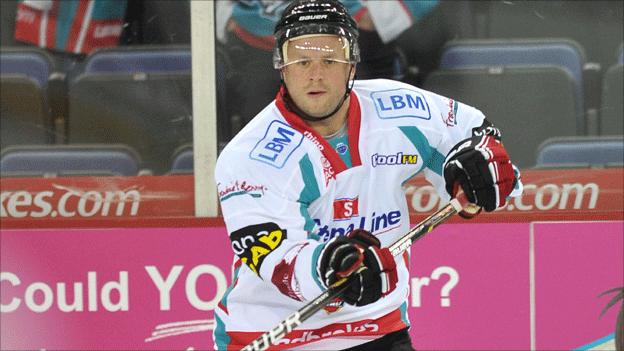 The Belfast Giants have added two Northern Ireland-born players, Gareth Roberts and Robbie Brown, to their roster for the 2013-14 season.
Roberts returns to the Giants for a fourth season after impressing during the 2012-13 campaign and has now played 130 games for the club to date.
Brown returns to the Giants for his second spell after winning the play-offs with his hometown team in 2010.
Since then the 22-year-old has gained experience with a number of UK clubs.
"Both Gareth and Robbie have had the opportunity to play on championship winning teams in Belfast and both have continued to develop and improve year on year," said Giants manager Todd Kelman.
"Paul Adey (Head Coach) and I wanted to ensure we had depth in our line-up and we have two players that can play at the Elite League level and can step into our top nine forwards when need be.
"We want to show a commitment to the local players that can see a pathway to playing for the Giants.
"It is difficult to make the jump to this level but Gareth and Robbie have both worked extremely hard during the season and during the off-season to make sure they were mentally and physically ready to play for the Giants.
"I am pleased to see local players who are born and bred here in Belfast playing for their hometown team. I always say that it means more to the local guys to pull on a Giants jersey than it possibly could ever mean to the rest of us. "