Nottingham Panthers: Corey Neilson pride at shirt honour
Last updated on .From the section Ice hockey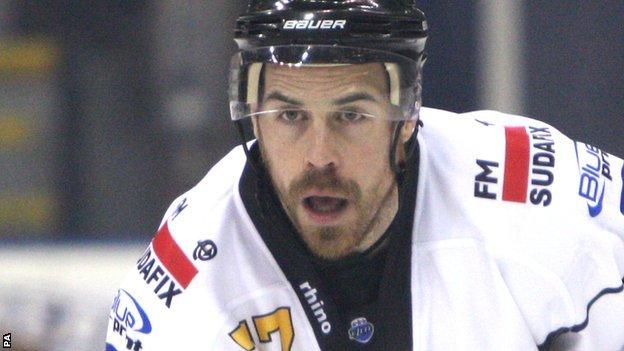 Nottingham Panthers coach Corey Neilson says having his playing shirt retired by the club is the biggest achievement of his career.
The Elite League champions retired their 36-year-old defenceman's number 77 shirt on the ice after Friday's penalty shoot-out win over Cardiff.
Neilson, who joined Panthers in 2006, and took over as player coach in 2008, said: "It is definitely the biggest accomplishment of my playing career.
"It's been a great relationship."
The Canada-born Great Britain international added: "If you talk about a legacy in your playing career, that's something that is tremendously special.
"When you are player you tend to bounce around from club to club and it's tough to find real genuine loyalty between a club and a player. This club has been immensely loyal to me and I have been loyal to the club as well.
"I'm speechless. It's been a pretty good long seven years here. I have been through a lot of ups and a lot of downs with quite a lot more ups recently.
"There have been so great moments, I have been backed by the club so this is something very special for me and my family."
Panthers, who followed up Friday's 4-3 win over Cardiff at the National Ice Centre with a 6-3 away victory over the same opposition on Saturday, were already assured of their first title success in 57 years.
And they are in a great position to add to their silverware this season.
Nottingham lead arch rivals Sheffield Steelers 4-1 after the first leg of the Challenge Cup final, and are strong favourites to overcome Fife Flyers in the two-legged play-off quarter-finals and progress to the play-off weekend on home territory.
An emotional Neilson admitted there had been some difficult times during his stint in Nottingham after receiving his award while his family looked on.
"There were some pretty dark moments," he said. "I have always kept the highs with me and those will be the ones that I cherish and remember.
"My boys mean the world to me, and my wife - who has travelled all the world with me. We've been so blessed that we got to stay here in Nottingham for seven years. It has been a wonderful time and for the family to share such a moment is a privilege."
As a player Neilson won the play-offs and Challenge Cup in successive seasons.
Since taking over from Mike Ellis he has won the Challenge Cup a further three times, won the play-offs twice and has finally ended the club's wait for Elite League success.
Neilson said he was very unlikely to play again but did not completely rule it out.
"I think I could play if there is a catastrophic injury and something came up," he said. "But obviously it is winding down and to go out on a high is something good."
Panthers have won the Challenge Cup for the last three seasons and were crowned Elite League champions on Friday, 15 March in Belfast.
The second leg of the Challenge Cup final takes place at Nottingham's National Ice Centre on Tuesday, 2 April.