Edinburgh Capitals are heavily beaten by Nottingham Panthers
By Craig Anderson
BBC Scotland
Last updated on .From the section Ice hockey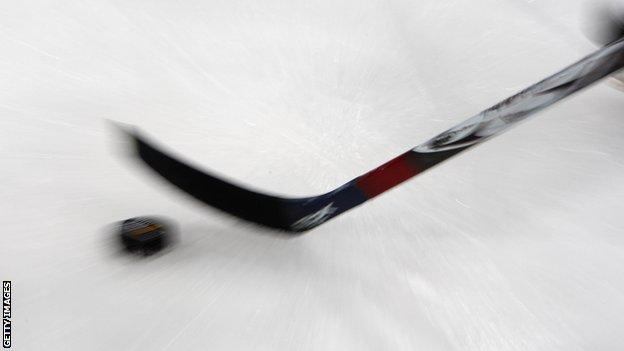 Nottingham Panthers completed a six-point weekend in Scotland to move closer to the Elite League title while, for Edinburgh Capitals, it was a case of what might have been.
The Panthers had already notched up wins over Scottish rivals Dundee Stars on Friday and Fife Flyers on Saturday before they arrived at Murrayfield on Sunday to face the Capitals.
And the full quota of points certainly looked on when they scored twice in the opening two minutes as Edinburgh struggled under the Panthers' blitzkrieg style of offence play.
Matt Francis turned a David Clarke shot into the Capitals' net from close range as the visitors netted their first in only 51 seconds.
Then the same scorer showed great skill to skate from one end to the other to put the puck between Tomas Hiadlovsky's legs in the Edinburgh goal to make it 2-0.
Caps pulled one back though as Peter Holecko's deadly shot was dropped by Panthers' netminder Craig Kowalski, with Marcis Zembergs taking full advantage of the rebound.
Edinburgh had two gilt-edged chances in the second period with Richard Hartmann going clear on Kowalski, but failing to get proper contact on the puck.
Then Curtis Leinweber nicked the puck from Kowalski and squared for his player-coach, but Hartmann was denied as Nottingham's goalie recovered to divert it wide.
Panthers though took full advantage and Jonathan Weaver had the travelling fans celebrating when his shot beat Hiadlovsky at his top left-hand corner.
Then Francis grabbed a hat-trick with a shot from the left-side circle and the Edinburgh goalie was beaten for a fourth time.
Without top scorer Rene Jarolin in the offensive line, the Caps lacked that cutting edge and it seemed cruel that Nottingham increased their lead even more.
David Ling cut in from the left from a Brandon Benedict pass to despatch a well-hit shot past the helpless Capitals keeper.
Then, Matthew Myers' one-timer from Kelsey Wilson's pass made it 6-1, with Hiadlovsky upset as he felt the goal judge behind him hadn't given the goal, but the referee had.
In fact the Slovakian was so disgusted that he threw his stick off the plexi glass and was lucky not to be on the wrong side of a misconduct rap for his level of dissent.
In any case, the match was well lost by that point and Capitals' utility man Neil Hay believes the score was harsh on his team.
He said: "This match wasn't a 6-1 for me. The Panthers were clinical in their finishing, while we couldn't get the finishes we needed at the right time.
"Not having Rene Jarolin was a big miss for us and his absence certainly weakened our front line. Hopefully we can have him back next week."
Coach Richard Hartmann added: "One way to look at it is we've lost 6-1 at home, but in other ways, we played all night long and the guys played well.
"We tried hard and had plenty of opportunities on the powerplay. If we had scored, it could have been much, much different and that happens in hockey."