Edinburgh Capitals too strong for Braehead Clan
By Craig Anderson
BBC Scotland
Last updated on .From the section Ice hockey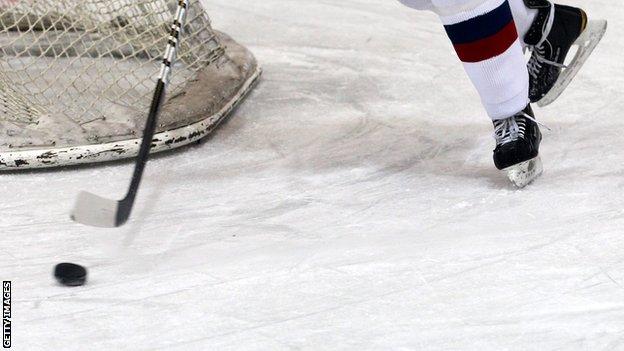 A double from Richard Hartmann bookended a great win for Edinburgh Capitals as their upturn in form increased to four wins from their last five.
They did it at the expense of Braehead Clan, who performed well in this entertaining encounter, but continue to be bereft of luck as their poor away form continued.
But it was the Caps who'll gain the plaudits as they finally moved off the bottom of the Elite League table, with Hull Stingrays in what was their place.
Player-coach Hartmann led by example in the first period when Curtis Lienweber's strike was saved by Clan netminder Mike Will, with the Slovakian following up to bury a fizzed shot.
Braehead were level within a minute as Matt Haywood tried to round Tomas Hiadlovsky, only to be denied until Steven Birnstill bundled into the net.
Luck seemed to be smiling on the visitors in terms of chances Haywood, Ash Goldie and Jordan Krestanovich all went close, but those opportunities never turned into something more.
But Lienweber popped up to net his seventh in six games since joining the Capitals as his shot came off Will's leg pad and landed in the goal.
The Murrayfield men may have been in decent form, but weren't playing at their best at times, as Jarolin sent a chance wide when he would have put it away any other day.
But Braehead's form was typified by Jade Galbraith being found free at Hiadlovsky's back post and somehow scooping his shot over the bar and into the nets behind the goal.
Needless to say, Edinburgh duly punished as Jarolin made it 3-1 on the powerplay, finishing Hartmann's pass from close range.
The Clan needed a performance in the third and Goldie's flicked shot over Hiadlovsky's right shoulder and into the net seemed to breathe new life into them as they closed to 3-2.
But Marcis Zembergs' low pass found Brent Patry at the back pipe and he poked it home to restore Edinburgh's two-goal advantage.
Clan weren't down for long when Haywood's chance drew out Hiadlovsky, allowing Galbraith to take a touch and apply a cool finish.
With time ticking away though, Will was pulled as Clan chased a leveler, only for Krestanovich to make a sloppy pass, allowing Hartmann clean through to clinch the points with a 5-3 win.
Edinburgh forward Curtis Lienweber reckons the club's turnaround in form has been down to luck going their way in recent matches.
He said: "Things seem to be clicking for us just now and we're getting the bounces now, which didn't seem to be happening before.
"It was a good performance and all the guys in all the lines have been playing well and we know every game is a battle, but we have to show up in every game and play the same way."
However, Braehead hitman Jade Galbraith was at a loss to explain this latest defeat, but believes better things are still to come.
Galbraith said: "I don't really know what to say, but we're on a slide right now. It's not through a lack of effort and when so many guys are hurt and things are going against you, it's really tough.
"We've got to battle through and we're not in a bad spot just now, but it will make us stronger in the end. We're working extra hard to get through this difficult spell."