Dundee Stars stage a comeback to edge Edinburgh Capitals.
By Craig Anderson
For BBC Scotland
Last updated on .From the section Ice hockey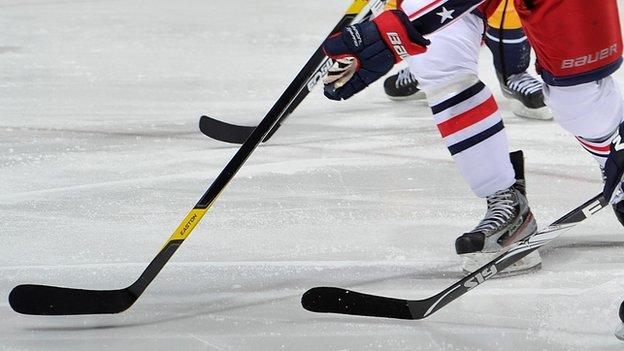 Plucky Capitals saw their hopes of two Challenge Cup points dashed as a third-period Dundee Stars revival left them rueing their luck.
Jeff Hutchins' side finally got their first away win of the campaign at the fourth attempt, but were made to work by Edinburgh, who clawed back a two-goal deficit then led early in the third.
Former Braehead Clan forward Mike Wirll got the wheels in motion when Sami Ryhanen played him in for the visitors' first goal of the night.
Then the Finn bagged Dundee's second, despite being outshot by Richard Hartmann's side for much of the match at this point.
Edinburgh got the break they needed halfway through the second period when Jack Watkins was serving a penalty for Dundee for having too many men on the ice.
And this allowed Rene Jarolin to get his name on the scoresheet as he put away Hartmann's assist to breathe new life into this game for the home team.
Then the momentum swung as Neil Hay fired home for his first goal of the season to level and give the fans something to cheer about heading into the second interval.
Jarolin's second of the night gave the Caps a lead for the first time early in the final period, but they started to lose grip of the game, allowing a resurgent Dundee to get back in.
Sami Ryhanen regained parity for the Stars as they moved up the gears then Wirll struck with his second of the night to put Dundee ahead.
Edinburgh tried to throw players forward to snatch a leveller in the final minutes and pulled netminder Craig Holland forward to help achieve that.
However, it was the empty net that allowed Wirll to grab his hat-trick and seal a Dundee win.
Dundee Stars coach Jeff Hutchins: "I'm happy how we won the game in the end, but not so happy with how we played in the first two and a half periods.
"We were fortunate to be ahead by two in the second session, but I'm happy at how we responded. This result could have gone either way to be honest.
Edinburgh Capitals' player-coach Richard Hartmann: "We played well, but we didn't because we lost the game if you know what I mean, but we lost concentration.
"I felt we were all over them for the whole 60 minutes, but we need to score more goals and stay focused in defence to keep them out."
Saturday 29 September:
Challenge Cup Group A:
BelfastGiants 3-2Braehead Clan
Elite Hockey League:
Cardiff Devils4-1 Edinburgh Capitals
Sunday 30 September:
Elite Hockey League:
Hull Stingrays4-5Braehead Clan
Elite Hockey League/Challenge Cup Group A:
Edinburgh Capitals 4-3 Hull Stingrays
Fife Flyers 1-3BelfastGiants
Challenge Cup Group A:
Edinburgh Capitals 3-5Dundee Stars