Braehead Clan and Dundee Stars out of Elite League play-offs
By Craig Anderson
BBC Sport Nation
Last updated on .From the section Ice hockey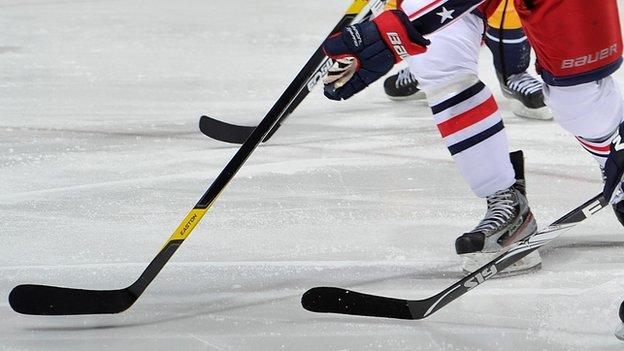 Braehead Clan and Dundee Stars' hopes of reaching the Elite League Final play-off weekend are over after both lost their quarter final ties at the weekend.
The Clan came closest though, going to overtime in their second-leg tie with Nottingham Panthers before heartbreakingly going out.
It started so well for Drew Bannister's men, who won Tuesday's first leg with a convincing 3-0 win, courtesy of third-period goals from Jade Galbraith, Lee Mitchell and Mike Wirll.
But they knew they would be up against in the return leg, with Jordan Fox - twice - and David Beauregard scoring over the first two periods to level the tie..
Then Sami Ryhanan then put them 4-0 up and 4-3 overall, but Jade Galbraith's goal sent the tie to overtime. However Brandon Benedict's finish 80 seconds in ended the Clan's hopes.
Braehead Clan player-coach Drew Bannister: "It's obviously disappointing but, to look back over the whole season, we accomplished a lot and came close in this campaign.
"Not having Mike Bayrack available through injury was a significant blow to us and that prevented us from playing three lines that we would have preferred."
Dundee Stars, meanwhile, had the toughest of tasks as they faced newly-crowned Elite League champions Belfast Giants, starting on Saturday in Northern Ireland.
And they returned to Tayside with the hardest of mountains to climb, after losing 5-0 to Doug Christiansen's men in the opening leg.
If there was any chance Dundee hadin the return leg, it was gone inside the opening three minutes when Aaron Clarke netted twice to increase the aggregate lead to seven.
Mark Garside, Craig Peacock, Darryl Lloyd and Robert Dowd had the Giants on six by the end of the second period.
Then Mike Hoffmann, Gareth Roberts and another from Dowd ended any likely Scottish involvement in next week's play-off finals as Belfast romped to a 14-0 aggregate win.
Dundee Stars skipper AJ MacLean: "Belfast impose a tough system that's very difficult to break down and the result I think says more about their quality than us.
"We only played well in flashes and the fact we didn't score shows they're strong defensively and I'll be surprised if they don't win in the finals next week."
Scottish results and scorers
Elite Ice Hockey League play-offs quarter-final
Tuesday 27 March:
Braehead Clan 3-0 Nottingham Panthers: (Galbraith 40:20, Mitchell 54:40, Wirll 56:57)
Belfast Giants 5-0 Dundee Stars: (Mason 11:33, Peacock 22:18 SH, Dowd 31:39 PP, Pelle 36:18, Hoffmann 59:53)
Saturday 31 March:
Nottingham Panthers: 5-1OT Braehead Clan: (Fox 7:37, Beauregard 13:10, Fox 25:35, Ryhanan 47:37, Benedict 61:20 OT); (Galbraith 49:21)
Sunday 1 April:
Dundee Stars 0-9 Belfast Giants: (Clarke 0:27, Clarke 2:33, Garside 13:52, Peacock 17:08, Lloyd 27:39, Dowd 32:38, Hoffmann 43:39, Roberts 44:05, Dowd 47:00 SH)