Mike Hoffman returns to Belfast Giants
Last updated on .From the section Ice hockey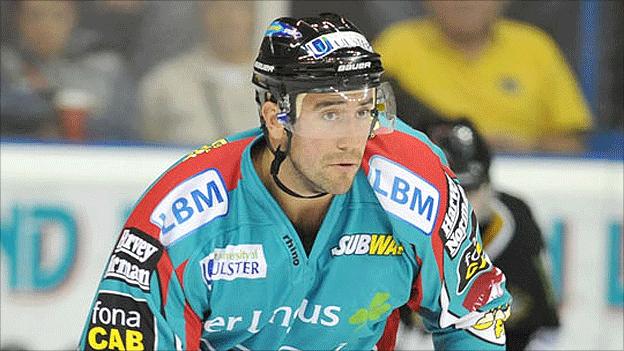 Mike Hoffman has rejoined the Belfast Giants less than an hour before the 31 January international signing deadline.
Hoffman had been playing for the Portland Pirates in the American Hockey League and the Las Vegas Wranglers of the East Coast Hockey League.
"He is coming straight from the AHL and has had a good season so far," said Giants coach Doug Christiansen.
"I have signed him as a forward, although he can also play in defence. I feel he is more effective up front."
Hoffman scored 10 goals and 19 assists last season in 45 games with the Giants, playing the majority of the season as a defender, despite starting out the season on a goalscoring streak including a hat-trick and six goals in his first eight games.
"We needed a player who can help us offensively and Mike does that in different ways than most creative players. We have a number of players who can skate and be creative but we have very few who can open up room on the ice with size and physical presence, especially with the injury to Darryl Lloyd," added Christiansen.
"I am very pleased with this signing. Hoffman is a great team-mate and hard worker. Our fans know that Mike gives his best every night, which will fit in with our team identity."