Braehead Clan on fire to beat Coventry Blaze
By Craig Anderson
BBC Sport Nation
Last updated on .From the section Ice hockey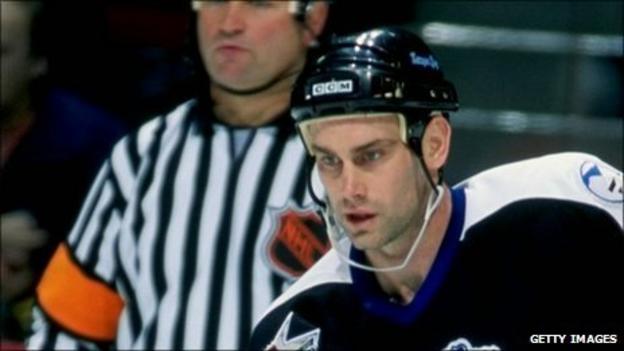 Braehead Clan kept their unbeaten home record going with a hard-fought victory over Coventry Blaze in the Elite League.
Despite being hampered by penalties, Drew Bannister's side have proved they can compete against some of the league's brighter lights and did so again at the weekend.
Brock McPherson arrived late at the back pipe to sweep in Ryan Campbell's lay-on in a quickly executed move to open the scoring.
Then Clan player-coach Bannister added the second as Blaze netminder Peter Hirsch tried to block Jade Galbraith's mishit, allowing the former NHL star to pass into the net.
The Blaze pulled themselves back into the game as Shea Guthrie bundled the puck past Clan keeper Jaakko Suomalainen, finishing Aaron Nell's pass.
Gregg Owen notched the equaliser, being put through one-on-one by David Phillips and finishing past the Finnish netminder.
Mike Bayrack, on his home debut, added a third thanks to a Jordan Krestanovich pass then Galbraith scored his first goal for the club in a one-on-one to secure the points.
McPherson should have added a fifth, but Bayrack, who assisted, was punished with an elbowing penalty and a game misconduct as he tussled with Phillips in the build-up.
Bayrack said: "The guy grabbed me and I threw an arm back to get off him. I guess I must have caught him in the face or on the nose. It was a poor call."
Clan's bench coach Frank Morris added: "It was an outstanding win for the team and we deserve great credit with the amount of penalty killing we had to do."
Elite League, Scottish results and scorers:
Saturday 15 October
Braehead Clan 4-2 Coventry Blaze: (McPherson 7:29, Bannister 20:56 PP, Bayrack 40:47, Galbraith 48:50); (Guthrie 25:47, Owen 27:05)
Dundee Stars 0-2 Sheffield Steelers: (Thomas 21:27, Tait 34:26, Finnerty 42:08, Finnerty 47:00)
Fife Flyers 2-3(OT) Edinburgh Capitals: (McAlpine 35:17 PP, Hamilton 55:02); (McKenzie 0:44, Valecko 31:14, Jarolin 3:39 OT)
Sunday 16 October
Edinburgh Capitals 3-7 Dundee Stars: (Jarolin 0:17, Menton 32:48 PP, McKenzie 52:21 PP); (Mazur 4:57 PP, Konkle 20:31 SH, Chalmers 24:02, MacLean 28:54, Hutchins 53:54, Konkle 55:56, McIntosh 56:47)