Scots sides set for Elite League
Last updated on .From the section Ice hockey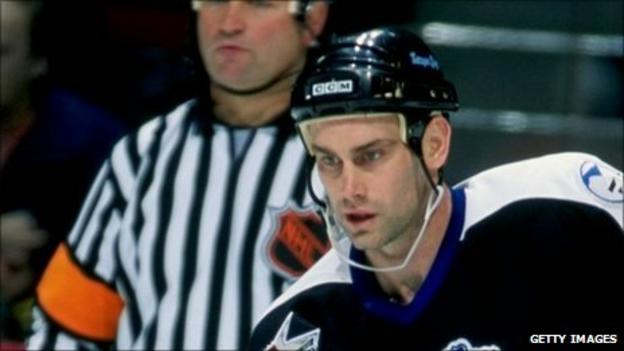 The summer has been awash with transfers and speculations, the squads have been built and the talking is just about over. The ice hockey season is ready to start again.
Like their football counterparts, the four Scottish sides taking part in this season's Elite Ice Hockey League have been busy foraging for new players for their sides.
BRAEHEAD CLAN
Clan finished fifth last season - the highest of all the Scottish teams - but will start their season the latest when they play Dundee on September 24th.
Their summer was set back by the unexpected departure of popular coach Bruce Richardson, who left to take a coaching role in his native Canada and replaced by Drew Bannister.
There are still places to be filled, including that of a goaltender following the departure of JF Perras, but the new coach admits he is up against it with the season looming.
Bannister said: "I'm enjoying the job so far, but it is eating into more of my time than I thought. Perhaps if I'd been in place earlier, I wouldn't have encountered the problems I've had.
"The preparations aren't going as quickly as I would like, but once I get the players to Glasgow and on the ice, I believe we'll be ready.
"It'll be great to finally start the season, but it will be a difficult start, given the other teams will be weeks ahead. Practice time will be limited for us, but my players are pros."
DUNDEE STARS
Dundee also made their debut in the Elite League last year and will be looking for a much better start as they struggled at first to life at this level.
Although it took them 15 games to register their first win last season, they finished in eighth place - the last play-off spot - and have rebuilt well for the new campaign.
However, a couple of injury and illness setbacks have altered coach Dan Ceman's plans, but he expects an improvement this time around.
Ceman said: "Losing Craig Mitchell and Matt Suderman were big blows over the summer, but I replaced them with Steven Chalmers and Chris Zarb, who will give us something else.
"I feel I've added more skill and mobility to the roster this time around and we didn't score a lot of goals so I've made some significant upgrades.
"As for our targets, I'll be keeping specific ones in the dressing room, but with the squad we have, we'll definitely be looking to improve on last season's finish."
EDINBURGH CAPITALS
The Capitals could surprise some teams this season as they quietly rebuild following what can only be described as a season to forget.
Loss of sponsorship, bad weather and imports departing left the Caps rock bottom of the Elite League, but they are on their way back with new imported players arriving all the time.
Slovakian Richard Hartmann has been appointed the club's new coach, but general manager Scott Neil warns the Murrayfield-based side aren't out of the woods yet.
He said: "I wouldn't say any pressure is off after last season, but we need to be careful about what we do. We're just rebuilding the squad and filling in the key areas.
"We have to be realistic about the new season and be mindful of the fact that we don't have the biggest budget, but I'd like to spring a few surprises along the way.
"A lot of tough decisions had to be made last season, but I'm quietly confident we can bring some good calibre players and be able to compete."
FIFE FLYERS
Flyers join the Scottish contingent for the first time after making the transition from the Northern League to replace Newcastle Vipers, who went out of business.
Coach Todd Dutiaume has had his own difficulties in bringing imports to the Kirkcaldy side, but a flurry of signatures is expected prior to their first regular season game next week.
The Canadian is looking forward to the new challenge of leading the Flyers into the Elite League set-up, but wants some level of local bragging rights first.
Dutiaume said: "For me, our games against the other Scottish sides will be huge and I think realistically we can beat them at home in front of big crowds, hopefully.
"Of course our first games are against Coventry Blaze and they will be real eye openers for us. They have quality players and a bigger budget so it's as tough a start as we can get.
"I won't sugar coat it though. It's not going to be easy and while we're not going to have overnight success at this level, we certainly won't roll over to anybody."