Nottingham Panthers sign Benedict and Champagne
Last updated on .From the section Ice hockey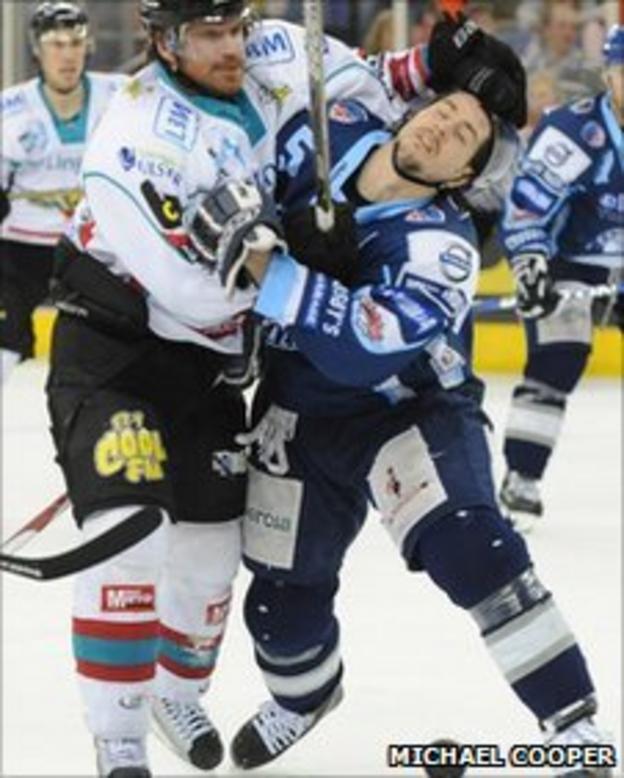 Nottingham Panthers have added two forwards with the signings of Brandon Benedict and Scott Champagne.
Benedict spent the last two years with Belfast, while Champagne joins after winning a championship in Asia.
Coach Corey Neilson said: "I've long been a big admirer of Brandon. He works every square inch of the ice and he is a natural leader.
"I've heard good things about Scott too. He skates well and has good skills but in a nutshell he's a passer."
The pair are former team-mates and scored 116 points between them in the East Coast Hockey League for Texas Wildcatters in 2007/08.
A year later they both racked up 30 points or more on the same team in the top flight in Denmark.
Benedict returned mid-season to Texas in the CHL to win a championship and then won the play-offs in his first season with Belfast.
Champagne won the Asia championship with Tohoku last season, to add to a college championship from his university days.
"We've seen how good special partnerships can be," added Neilson. "Nottingham have had their fair share in the past.
"I am hopeful that come the end of the season, we'll be toasting this pair in brandy and bubbly."
The signings of Benedict and Champagne mean there will be no return for Canadian Jade Galbraith, who scored 266 points in 186 games in three years with the Panthers.