Coach Paul Thompson names GB World Championships squad
Last updated on .From the section Ice hockey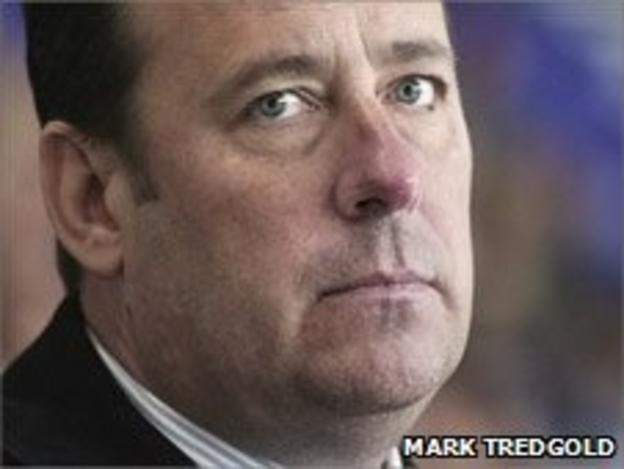 Great Britain head coach Paul Thompson has named his 23-man squad for the World Championships in Kiev, Ukraine.
Nottingham Panthers pairing Corey Neilson and Robert Lachowicz both receive their first call-up to a World Championship competition.
Edinburgh Capitals' Jeff Hutchins and Sheffield Steeldogs netminder Ben Bowns are also selected for the first time.
Thompson said: "I'm now very happy with the decisions that have been made. They are the right decisions for Kiev."
Great Britain warmed up for the tournament with back-to-back matches against the Netherlands.
A 5-2 victory at the National Ice Centre in Nottingham on Saturday was followed by a 7-2 victory in the Hull Arena on Sunday.
"The games against the Netherlands were an excellent opportunity for me to see all of the players in action before deciding which players to take to Kiev," added Thompson.
"Every player who played in the games impressed me. They all gave it everything and deciding which players to release was the hardest thing I've ever had to do in coaching.
"The guys who didn't make it should feel just as proud of their performances as those who did.
"But those decisions had to be made and now we have the rest of this week together to prepare for the World Championships.
"We're all really looking forward to it now."
The World Championships Division One (Group B) begin on Sunday, 17 April, with Great Britain grouped with Estonia, Kazakhstan, Lithuania, Poland and hosts Ukraine.
GB squad
Netminders: Ben Bowns (Sheffield Steeldogs), Nathan Craze (Belfast Giants), Stephen Murphy (Belfast Giants).
Defencemen: Russell Cowley (Coventry Blaze), Danny Meyers (Nottingham Panthers), Corey Neilson (Nottingham Panthers), Ben O'Connor (Morzine), David Phillips (Gwinnett Gladiators), Mark Richardson (Cardiff Devils), Mark Thomas (Sheffield Steelers), Jonathan Weaver (Coventry Blaze).
Forwards: David Clarke (Nottingham Panthers), Robert Dowd (Belfast Giants), Jason Hewitt (Sheffield Steelers), Phil Hill (Cardiff Devils), Jeff Hutchins (Edinburgh Capitals), Robert Lachowicz (Nottingham Panthers), David Longstaff (Guildford Flames), Matthew Myers (Nottingham Panthers), Greg Owen (Coventry Blaze), Jonathan Phillips (Sheffield Steelers), Colin Shields (Morzine), Ashley Tait (Sheffield Steelers).