Virtual Grand National: Runners, riders & betting on race to benefit NHS
Last updated on .From the section Horse Racing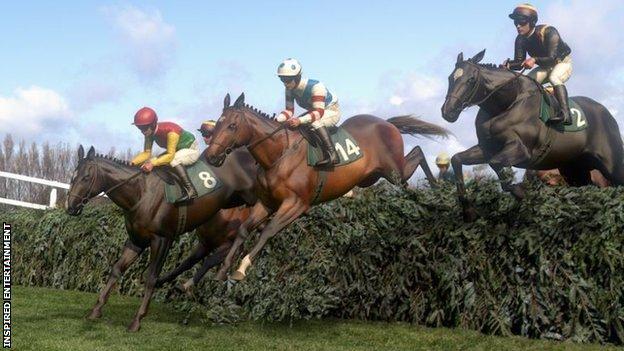 The actual Grand National may be off but Saturday will still feature a televised Virtual Grand National.
Forty runners who would have been most likely to line up will take part, using CGI technology and special algorithms.
Tiger Roll had been due to seek an unprecedented third consecutive win in the big race on Saturday before it was cancelled because of the coronavirus pandemic.
Bookmakers have odds, and profits will go to NHS Charities Together.
All the virtual runners and riders are listed at the bottom
The virtual race will be broadcast by ITV from 17:00 BST on Saturday.
A maximum bet of £10 win per horse, or £10 each way, will be allowed, said the Betting and Gaming Council.
Executive producer Rob McLoughlin said: "We use the latest CGI technology and algorithms and were ready to go ahead as a forerunner to the big race, but now we want to cheer the nation up and ask the computer if history could have been made."
McLoughlin, of Carm Productions, is a former director of Granada Television who grew up in Maghull, near Aintree.
The special Virtual Grand National broadcast will also pit Aintree legends Red Rum and Tiger Roll against each other, and 38 others, in a Race of Champions.
A virtual contest has been held since 2017 and boasts a good record of forecasting the actual outcome.
"In 2017, Cause of Causes won the Virtual Grand National and came a close second in the real race hours later," explained Steve Rogers, chief commercial officer for virtual sports at animators Inspired Entertainment.
"The 2018 result was breathtaking as Tiger Roll won both in almost identical circumstances and the computer chose three of the top five finishers, including the Tiger, in 2019."
Analysis
BBC horse racing correspondent Cornelius Lysaght
A horse called Lottery won the first recognised Grand National in 1839 so ensuring regular use of his name in relation to the many unpredictable results that followed.
With the 2020 version being computer-generated there will presumably be few hard-luck stories - nor the traditional fairytale result - as algorithms crunch data to produce a result.
For quality around Aintree, course regulars Tiger Roll and the low-weighted Walk In The Mill are going to be favoured; for ability, it's Definitly Red; for stamina it's Potters Corner and Any Second Now; for a bit of everything I think it's Burrows Saint (12-1).
Runners and riders
Number, name, jockey, odds, weight
1 Tiger Roll, Davy Russell, 5-1, 11-10
2 Bristol De Mai, Daryl Jacob, 20-1, 11-8
3 Aso, Charlie Deutsch, 66-1, 11-2
4 Elegant Escape, Jonjo O'Neill jnr, 20-1, 11-2
5 Anibale Fly, Barry Geraghty, 20-1, 11-2
6 Top Ville Ben, Tom Dowson, 45-1, 11-2
7 Beware The Bear, Jerry McGrath, 33-1, 11-0
8 Peregrine Run, Kevin Sexton, 66-1, 10-13
9 Jett, Sam Waley-Cohen, 50-1, 10-13
10 Alpha Des Obeaux, Richard Johnson, 25-1, 10-13
11 Total Recall, Paul Townend, 40-1, 10-13
12 The Storyteller, Keith Donoghue, 40-1, 10-12
13 Magic Of Light, Robbie Power, 18-1, 10-12
14 Talkischeap, Tom Cannon, 25-1, 10-11
15 Yala Enki, Bryony Frost, 28-1, 10-11
16 Ballyoptic, Sam Twiston-Davies, 25-1, 10-11
17 Burrows Saint, Rachael Blackmore, 12-1, 10-10
18 Definitly Red, Brian Hughes, 14-1, 10-10
19 Sub Lieutenant, JJ Slevin, 33-1, 10-9
20 Ok Corral, Derek O'Connor, 25-1, 10-9
21 Tout Est Permis, Sean Flanagan, 80-1, 10-9
22 Vintage Clouds, Danny Cook, 33/1, 10-8
23 Crievehill, Tom Bellamy, 66-1, 10-8
24 Lake View Lad, Henry Brooke, 50-1, 10-8
25 Jury Duty, Mark Enright, 40-1, 10-8
26 Pleasant Company, David Mullins, 28-1, 10-7
27 Acapella Bourgeois, Danny Mullins, 33-1, 10-6
28 Shattered Love, Lisa O'Neill, 66-1, 10-6
29 Any Second Now, Mark Walsh, 10-1, 10-6
30 Potters Corner, Jack Tudor, 18-1, 10-6
31 Dounikos, Luke Dempsey, 50-1, 10-5
32 Kildisart, Nico de Boinville, 50-1, 10-5
33 Death Duty, Gavin Brouder, 50-1, 10-5
34 Ramses De Teillee, Tom Scudamore, 66-1, 10-5
35 Valtor, James Bowen, 66-1, 10-4
36 Saint Xavier, David Maxwell, 66-1, 10-4
37 Warriors Tale, Harry Cobden, 80-1, 10-4
38 Double Shuffle, Jonathan Burke, 100-1, 10-4
39 Kimberlite Candy, Richie McLernon, 16-1, 10-4
40 Walk In The Mill, James Best, 16-1, 10-4