Substitute jockey Racheal Kneller triumphs at Lingfield on Ruacana after Twitter plea
Last updated on .From the section Horse Racing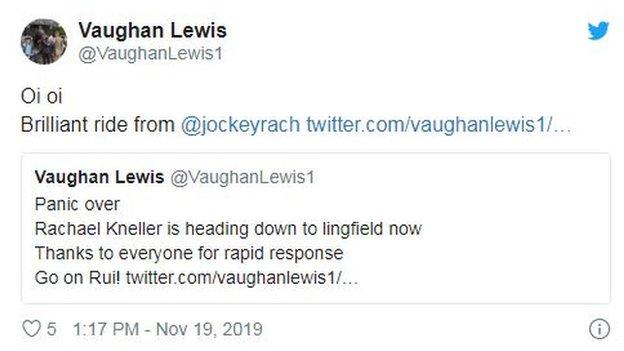 Super-sub jockey Racheal Kneller was on to a winner after a last-minute plea on Twitter to ride a favourite.
Owner Vaughan Lewis had been left without a rider for his horse Ruacana at Lingfield after Trevor Whelan's flight from Ireland was cancelled.
Kneller was alerted to his post, the pair were put in touch and she steered the 13-8 shot, trained by Zoe Davison, to victory.
"It's great that Twitter has helped," the 32-year-old rider told BBC Sport.
The Flat Jockeys Can Jump Handicap Hurdle was flat jockey Kneller's debut race over obstacles and first win from 36 rides this year.
Lewis nearly withdrew his horse before making the plea on social media as a last resort.
"Help please Racing Twitter - Urgently need flat jockey to ride favourite in 1pm at Lingfield," he wrote at just after 08:30 GMT on Tuesday.
With the help of her agent Anna Wallace, Kneller was recruited an hour later and said she could even afford to enjoy a McDonald's milkshake on the way to the course as the weights for riders in jump racing are higher than on the flat.
"I had a chocolate milkshake on the way there and I'll be having Champagne when I get home," she said.
Kneller had ridden out two lots of horses on Tuesday morning and was oblivious to the plea from Lewis until she checked her phone.
"It's funny how it all happened. I had been keen to ride in the race and Zoe's daughter Gemelle contacted my agent Anna and quite a few people tagged me when they advertised looking for a jockey," she added.
"I've been chasing a winner for a long time and the horse jumped everything perfectly. He was pulling me round; I was just a passenger."
Despite an hour-and-a-half drive from Lambourn, Berkshire, to the Surrey track, Kneller still had time to squeeze in some research.
She watched video replays of Ruacana's previous runs on her phone while walking the track, and rang former jump jockey-turned trainer Jamie Osborne for advice.
"He said keep one leg either side. But then he gave me some really good advice and it all helped," she said.