Breeders' Cup: Mongolian Groom euthanised after Santa Anita injury as Vino Rosso wins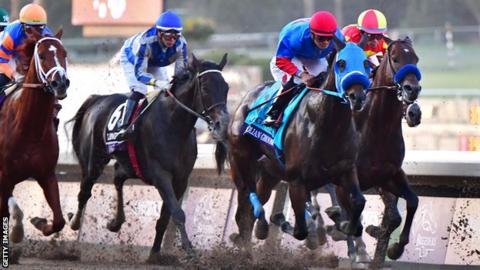 Mongolian Groom became the latest horse to die following injury at California's Santa Anita track after pulling up in the Breeders' Cup Classic race.
Vino Rosso won the $6m (£4.6m) finale of the two-day Breeders' Cup meeting.
But the event was overshadowed when Mongolian Groom was euthanised after a leg injury.
The track had been under scrutiny heading into the event because of the deaths of 36 horses there since December 2018.
"The death of Mongolian Groom is a loss to the entire horse racing community. Our equine and human athletes' safety is the Breeders' Cup's top priority," organisers said.
"We have worked closely with Santa Anita leading up to the World Championships to promote enhanced equine safety.
"Santa Anita has implemented numerous industry-leading reforms to enhance the existing health and safety measures with the intent of providing a safe racing environment."
Breeders' Cup has launched an inquiry into the circumstances surrounding the four-year-old's death.
"Ignore everything else you've heard and read about 'safety' and horseracing," said Patrick Battuello of activist group Horseracing Wrongs.
"If they can't prevent a kill at this track, on this day - with the whole world watching and vigilance at an all-time high - they can't prevent kills period."
Organisers had considered switching the event away from Santa Anita in the summer.
"It's something that I think we were all very concerned about coming in," said Vino Rosso trainer Todd Pletcher.
"I think everyone took every precautionary measure they possibly could."
Success for O'Brien
Earlier, Joseph O'Brien became only the second person to ride and train a winner at the Breeders' Cup, as Iridessa won the Filly and Mare Turf race in California.
The 26-year-old son of legendary trainer Aidan also becomes the youngest winning trainer in the event.
Irishman O'Brien became the youngest winning jockey when he won the Turf race aged 18 aboard St Nicholas Abbey in 2011.
Frankie Dettori finished fourth in the race with Fanny Logan, while Aidan O'Brien's Just Wonderful was fifth.
"It's unbelievable," O'Brien said. "I've always got a much greater kick training a winner than riding a winner since I stated training.
"It's a dream, really, I've had a handful of Breeders' Cup runners, but for this to happen it's very special and it hasn't sunk in yet."
Frenchman Freddy Head is the only other man to win at the event as both a rider and trainer.
He won the Breeders' Cup Mile as a jockey for the second time in 1988 and as a trainer 20 years later.