Khadijah Mellah: Hijab-wearing jockey wins on Haverland and makes history at Goodwood
Last updated on .From the section Horse Racing
Four months ago Khadijah Mellah had not even sat on a racehorse, but on Thursday she made history by winning the Magnolia Cup at Glorious Goodwood.
The 18-year-old student is believed to be the first person in the UK to appear in a competitive horse race while wearing a hijab.
The amateur rider from Peckham, in south London, won the five-and-a-half-furlong charity race aboard the Charlie Fellowes-trained 25-1 outsider Haverland.
In the process, she beat the likes of professional event rider Sophie van der Merwe and Olympic cycling champion turned amateur jockey Victoria Pendleton.
"There are no words to describe this - I'm lost for words," Mellah said.
"When I passed the post I couldn't believe it, and then I saw all my family and friends and started crying. I am quite competitive, so I wanted to win this race, but I never expected to.
"Horses bring me immeasurable amounts of happiness. I've always loved them and always will and I hope to carry on and keep riding."
BBC presenter Alexis Green, former Apprentice star Luisa Zissman and TV personality Vogue Williams also took part in the all-female race.
Jockey Frankie Dettori told BBC Sport: "I watched the race. It's incredible, unbelievable. I met her yesterday and she is such a sweet person."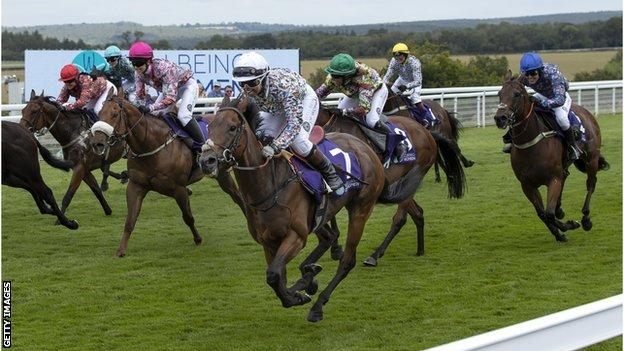 Mellah learned to ride at the Ebony Horse Club charity in Brixton - but sat on a racehorse for the first time in April this year, and only galloped properly last week.
According to the Muslim Women's Sport Foundation, the number of female British Muslim jockeys - past and present - is in "single digits".
"She is the most wonderful young lady I've had anything to do with," said Fellowes.
"She has a smile that lights up our yard every time she comes in. She has just taken this so incredibly well."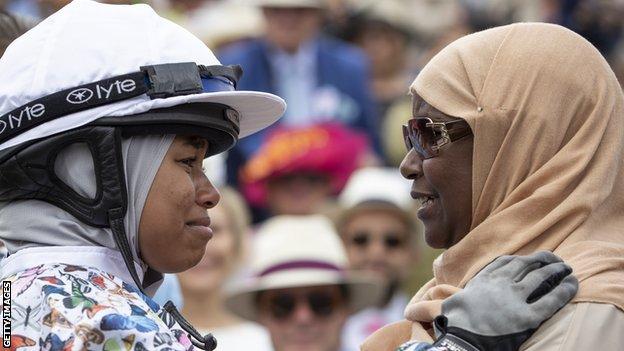 Analysis
BBC horse racing correspondent Cornelius Lysaght
What an extraordinary story, and what a boost for racing in an area in which all sports are keen to make an impression, among a potential audience with which it is not normally associated - in this case young, non-white and inner city-based.
Although Mellah has ridden for some time, race-riding at perhaps 35 miles an hour is a completely different thing, and here she is wowing a vast stage after just a few months. And she was ice-cool under extraordinary media pressure, which bodes well if she does fulfil a declared ambition to qualify for a full amateur jockey's licence.