Equine flu: British horse racing meetings cancelled because of equine flu outbreak
Last updated on .From the section Horse Racing
An outbreak of equine flu has led to British horse racing meetings being cancelled and fears over the impact on next month's Cheltenham Festival.
All four fixtures on Thursday were called off by the British Horseracing Authority (BHA) after three vaccinated horses tested positive for the disease.
Trainer Donald McCain has confirmed the horses came from his Cheshire stables.
Horses from the infected yard raced on Wednesday, potentially exposing a significant number of horses.
British-trained runners have been barred from running in Ireland.
Jump racing's showpiece four-day Cheltenham Festival is due to start in 33 days, on 12 March.
And while it is not known what the precise impact might be, the situation has echoes of the foot-and-mouth crisis 18 years ago, which began at a similar time of year and eventually led to the meeting being called off.
Latest developments in equine flu crisis
Announced late on Wednesday that Thursday's racing at Huntingdon, in Cambridgeshire; Doncaster (South Yorkshire), Chelmsford (Essex) and Welsh track Ffos Las was cancelled.

A decision on whether Friday and Saturday's fixtures - at Newcastle and Southwell - can go ahead is not expected until Thursday evening.

Wolverhampton Racecourse has said its meeting on Saturday will not take place as a horse from the infected yard ran there this week and a deep clean has been ordered. Racing is not permitted for four days afterwards.

Three horses vaccinated against the virus tested positive on Wednesday night at the Cheshire stables of Donald McCain, the son of the late Ginger McCain - who trained the legendary Red Rum to win the Grand National a record three times in the 1970s.

The alarm was raised as horses from his yard had raced on Wednesday at Ayr, Ludlow and Wolverhampton.

Brant Dunshea, chief regulatory officer at the BHA, said there "is a potential risk" that racing could be suspended for days or even weeks but added that a decision would not be made without "thinking through all the consequences".

Leading Irish trainer Gordon Elliott, who had five runners at Ayr has isolated his horses in a facility 15 miles from his main operation.
In a statement issued through the National Trainers Federation, McCain said: "I have been aware of the recent news about equine influenza outbreaks in France and Ireland, and over the last couple of days, I have been concerned about the health status of a small number of horses in the yard.
"Their welfare is at the front of our minds, so at my request, our veterinary surgeon has examined them regularly and we have followed his advice on testing and treatment.
"It was by following this protocol that the positive results for equine flu came to light yesterday evening.
"The BHA were contacted immediately and we are liaising closely with them about bio-security and management of all the horses at Bankhouse. Bankhouse follows all the available advice on disease control and all our horses are fully inoculated."
He added: "We are scrupulous about observing the health status of horses in our care and taking the necessary steps to treat any condition that may affect them. It follows we would never race any horses that we could have known were infected.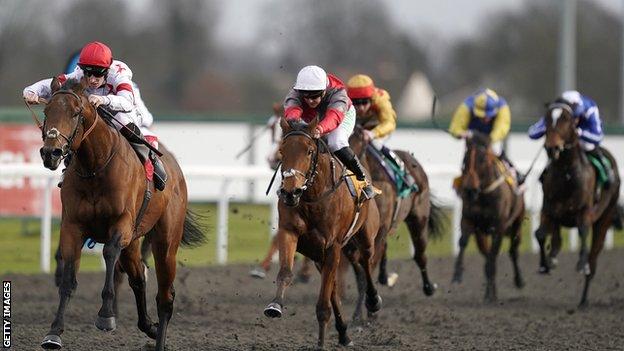 "Over the last two months, all potential runners have been scoped and their blood checked within 36 hours of their races to ensure that only healthy horses compete for the yard.
"When new horses arrive at our yard we, as much as possible, try to keep them separate but at this stage cannot know if the infection came from recent arrivals or from horses returning from racing.
"We have three confirmed cases and this morning have taken blood and swabs from all the others for testing."
David Sykes, director of equine health and welfare at the BHA, added: "We would like to thank Donald McCain for his co-operation in this matter, and for the responsible manner in which he has dealt with this issue, under the guidance of his veterinary surgeon.
"He has acted professionally with the interests of the racing industry and the health of his horses as his priority."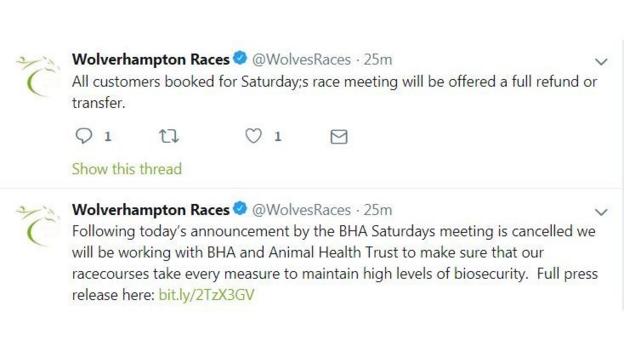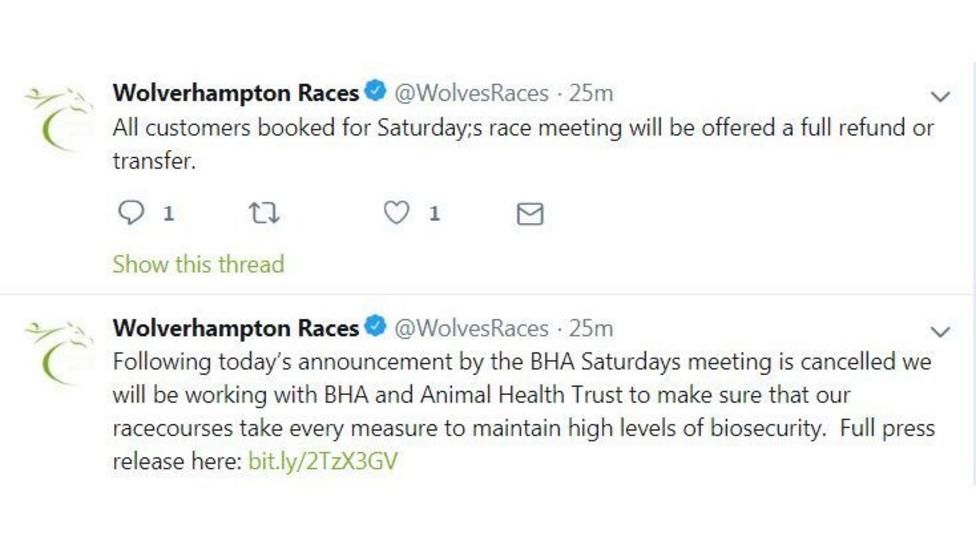 Horses that have contracted equine flu can develop a high fever, coughing, nasal discharge and sometimes swelling of the lymph nodes. The incubation period is usually days but recovery can take weeks, or even months.
There are no known consequences for humans exposed to the disease.
The BHA said there was "significant concern over welfare and the potential spread of the disease" and it was attempting to prevent further cases. It said "quarantine and biosecurity measures" are being put in place and horse movements restricted.
"The full extent of potential exposure is unknown and we are working quickly to understand as much as we can to assist our decision making," it added.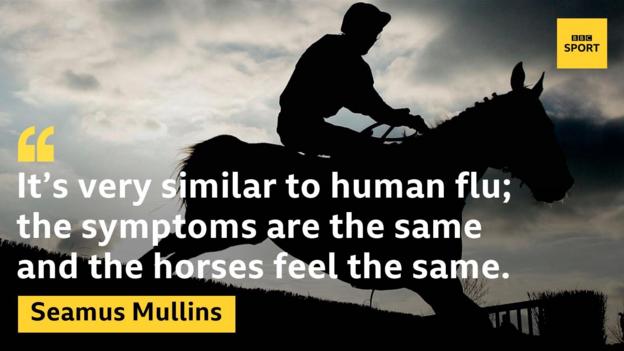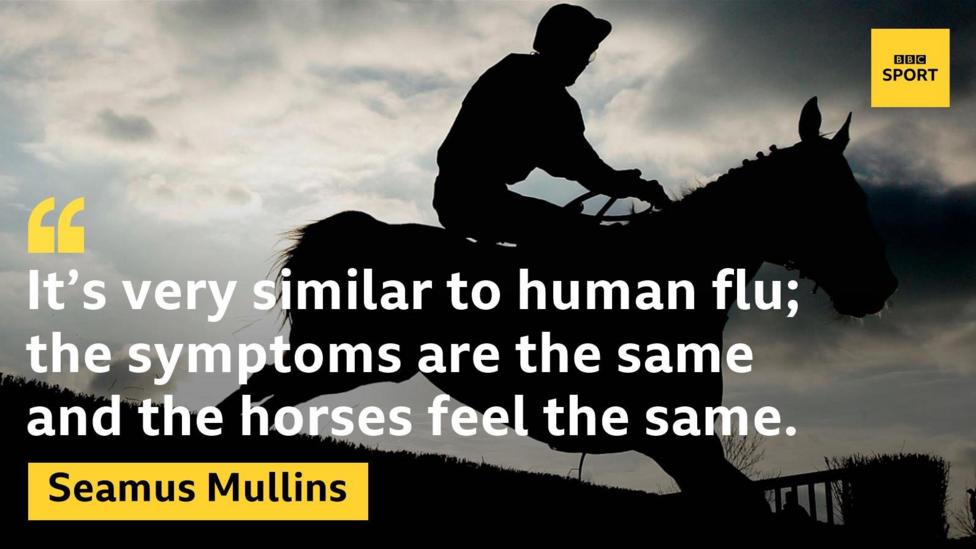 Since the start of 2019, there have been seven outbreaks of equine flu - in Essex, Cheshire, Derbyshire, Lincolnshire, Yorkshire and Suffolk.
The two cases in Suffolk involved thoroughbreds - one centred on eight vaccinated two-year-old horses and the other was six unvaccinated animals.
This news has rocked horse racing at a time when anticipation is building before the Cheltenham Festival, and the bloodstock industry prepares for the start of the breeding season.
"As you can imagine, a normal race meeting will have circa 70-100 racehorses stabled in a close proximity from all parts of the country, all housed together for a day and then they all go back home to their own yard, so it could be catastrophic," trainer Seamus Mullins told BBC Radio 5 live.
It is unclear at this stage the potential effect on future fixtures with the 'Super Saturday' meeting at Newbury in Berkshire on 9 February - where last year's Gold Cup winner Native River is due to run - the next high-profile fixture.
With just over four weeks left to the Festival, the countdown is on for jockeys, trainers, owners and punters, with many leading contenders earmarked for prep races over the next 10 days.
"If it was a long-term stoppage it would hit racing very, very hard both with the day-to-day training of the horses, but more importantly it would financially hit the industry very, very hard," said Mullins.
"Every day without racing is a loss on income for everybody, from the stable lads in the yard, to the jockeys, trainers, owners, bookmakers, racecourses, it would be very, very serious."
What is equine flu?
Equine influenza is a highly infectious disease that affects horses, mules and donkeys, occurring globally caused by strains of the Influenza A virus.
It is the most potentially damaging of the respiratory viruses that occur in UK horses and disease symptoms in non-immune animals include high fever, coughing and nasal discharge.
The outbreak at the infected yard follows the identification of a number of equine influenza cases across Europe and the UK, including several in vaccinated horses.
Following the recent outbreaks, guidance was sent to racehorse trainers to inform them that all horses that have not had a vaccination against equine flu within the last six months should receive a booster vaccination, and that trainers should be extra-vigilant.
However, equine influenza can be highly contagious and - unlike other infectious diseases - can be airborne over reasonable distances as well as be transmitted indirectly, including via people.
"It's very similar to human flu; the symptoms are the same and the horses feel the same," said Mullins.
"You get a high temperature, a nasal discharge and eventually you get coughing and the horses feel rough. It's similar to humans - but they get over it."
Analysis
Cornelius Lysaght, horse racing correspondent
There is such a feeling of deja vu here, 18 years almost to the day since I recall being at Wincanton races when news first emerged of the outbreak of foot and mouth disease in the UK in 2001.
Racing was stopped for a while, and eventually the Cheltenham Festival was called off altogether.
There's no suggestion that this incident will cause the same kind of disruption, but that said there's big element of uncertainty about what happens next, and any further shut-down - Cheltenham is again looming - would clearly have a considerable effect on the sport but on all the ancillary industries that go with it.