Musselburgh 'deemed safe for racing' following BHA inspection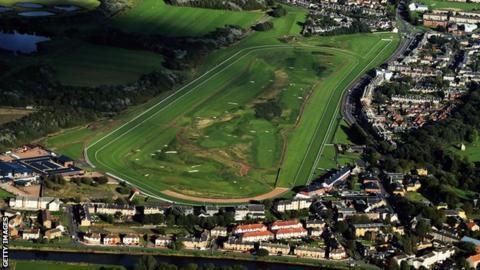 Monday's racing at Musselburgh will go ahead, after an inspection following the deaths of four horses this week.
Smart Ruler, Leather Belly, Sierra Oscar and Kensukes Kingdom all died at the East Lothian course on Monday.
A British Horseracing Authority (BHA) inspection took place on Friday and did not "suggest there is any reason Monday's fixture cannot go ahead".
"We were confident that the deaths were not related to track conditions," said general manager Bill Farnsworth.
In a statement, Farnsworth said the deaths were a "unique but unfortunate coincidence".
Conditions at the track were good and the ground was officially good, good to soft in places.
Smart Ruler, trained by Jimmy Moffatt, collapsed four furlongs from home in the handicap hurdle.
The Rebecca Menzies-trained Leather Belly, Jean McGregor's Sierra Oscar and Kensukes Kingdom, who won the novice hurdle for Philip Hobbs, also died.
"It was unhelpful to see and hear certain commentators cast doubt over the safety-first approach that we take at Musselburgh and to call in to question our procedures," Farnsworth added.
"We were heartened to have the support of those closest to the incidents, the trainers and owners of the horses involved, and we extend our condolences to them at this sad time.
"Racing goes ahead on Monday as scheduled and we will endeavour to uphold best practice and to adhere to the highest safety and welfare standards."
'Misfortune cannot be accounted for' - analysis
BBC horse racing correspondent Cornelius Lysaght
Welfare remains the biggest single issue for horse racing, and although figures do show that the fatality rate is at a very low level, that four horses died on one afternoon is particularly shocking - for the sport itself as well as for those looking in from the outside.
This news shows that inspectors believe there wasn't a single over-arching factor which was responsible; that's no surprise because this is almost certainly a case of terrible misfortune.
The authorities have all kinds of acclaimed safety measures in place, but ultimately it's just not possible that ever eventuality can be accounted for.