Ruby Walsh: You're a villain when you lose, says jump jockey
Last updated on .From the section Horse Racing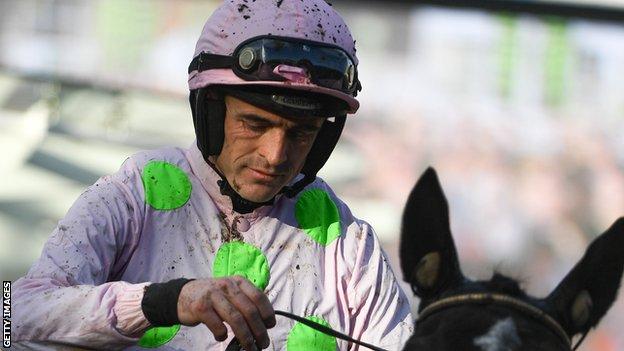 Ruby Walsh has addressed concerns over his form for the first time, saying: "When you're winning, you're a hero. When you're losing, you're a villain."
The all-time leading Cheltenham Festival jockey has been beaten on six favourites in his past 11 rides.
Walsh, 39 - number one jockey for champion Irish trainer Willie Mullins - had four consecutive falls in November.
But the two-time Grand National winner told Paddy Power News: "I'm going a lot better than I was this time last year."
Walsh has admitted he may have made mistakes when odds-on favourite Faugheen was beaten by stablemate Sharjah, ridden by Paul Townend, in the two-mile Morgiana Hurdle at Punchestown on Sunday.
Mullins had surprised some observers when appearing to question Walsh's tactics in a post-race interview.
'Maybe we did too much' - Walsh on Faugheen
The brilliant 2015 champion hurdler Faugheen - nicknamed 'The Machine' - vied for the early lead with Tombstone, owned by champion trainer Mullins' rivals the Gigginstown House Stud.
Townend, the talented understudy who deputised for Walsh during injury spells earlier this year, was praised by Mullins for biding his time and coming through for victory.
"You're never going to get any better if you don't realise you're making mistakes," said Walsh, whose catalogue of career injuries include breaking a leg at Punchestown almost exactly a year ago before another break four months later at the Cheltenham Festival.
"I set out on Faugheen doing what I thought was right on paper but it didn't work out. You can't live your life in hindsight and you can't change what's gone by. You can only go forward.
"Faugheen had been showing plenty of spark at home and I thought there would be more of a turn of foot. Maybe Willie is right, maybe we did too much for the first mile of the race."
He indicated that the 10-year-old gelding, who won the Grade One Stayers' Hurdle at Punchestown over three miles on his previous run in April, might be better suited by that kind of distance.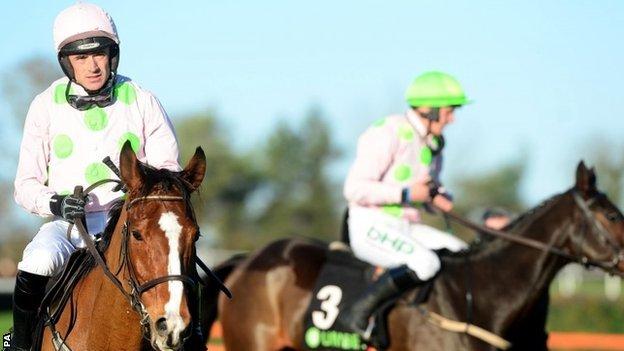 Asked if he felt he had gone too fast on Faugheen in the immediate aftermath of the race, Walsh said: "No, but that said, with hurdles missing in the back straight, when you have no jumps it becomes more stamina-orientated.
"Jumping allows horses to get a breather. I didn't think I had gone too fast but I thought we were going a good gallop. It was a Grade One race."
Walsh and Mullins have been a dominant force in jump racing over recent years, with the rider returning to his homeland in Ireland after a highly successful period with English trainer Paul Nicholls.
The jockey has been feted by punters down the years with chants of 'Ruby, Ruby, Ruby' ringing from the grandstand after Cheltenham triumphs.
His career has seen associations with great horses such as Kauto Star and Denman for Nicholls and the Mullins-trained Hurricane Fly.
"When you're winning, you're a hero. When you're losing, you're a villain. That's never going to change in racing. What doesn't kill you, makes you stronger," he added.
On Saturday, he won the Grabel Mares Hurdle at Punchestown on Stormy Ireland - the same race that saw him fall from Let's Dance and break his leg 12 months ago.
Just days after returning to race riding at Cheltenham, he snapped his right tibia for a second time in a fall from Al Boum Photo in the RSA Chase.