Market Rasen: Racehorse L'es Fremantle ends losing run with win at 56th attempt
Last updated on .From the section Horse Racing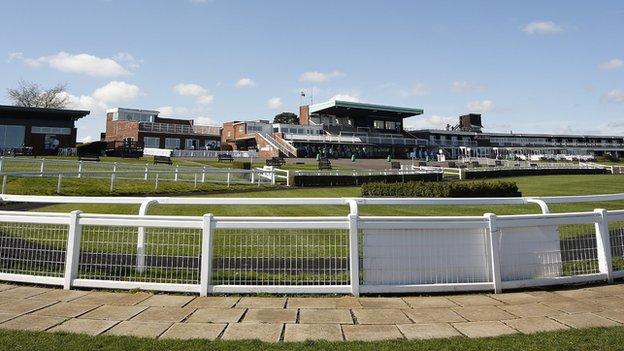 One of the longest losing runs in sport is finally at an end.
The "ugly duckling" racehorse L'es Fremantle won at odds of 80-1 in a race at Market Rasen after being beaten in all of his previous 55 outings.
He was winless for more than five years, but finished fast under Rachael McDonald for a first career victory.
"We perservered and he's gone and won. It's a pleasant surprise, he sprinted like a gazelle at the finish," trainer Michael Chapman, 80, told BBC Sport.
Victory in the handicap chase ended a losing streak stretching 1,944 days.
It was also a first triumph in two years for the octogenarian, whose stables are a short distance from the Lincolnshire racecourse.
Chapman said he initially bought the horse and sold him to a group of owners who named him L'es Fremantle as they had a pal called Les, who lived in Fremantle, Australia.
The trainer later took back the gelding, who has a big white face, but was beginning to feel the seven-year-old may never win.
"He's always trying but never seemed to do any good, then he was third at 100-1 a few runs ago," said Chapman.
"He's not very good looking, he's a bit of an ugly duckling, though everybody loves him. He likes to bite people, but it's not vicious.
"Market Rasen is one of his favourite courses because he only has to go over the road. He's not very big, but he jumps like a stag,"
There were no boozy celebrations for the veteran trainer, who went to the gym for a spot of running and weightlifting on Thursday night.
"You have to keep active - you use it or lose it," he said.
Despite the horse's poor form, on-course bookmaker Andy Geraghty said he lost money on the race.
"One punter had £5 each-way at 125-1 which cost us £750 alone, and there were other smaller bets," he said.
That losing run - and one win
Career finishing positions for L'es Fremantle since his first run in July 2013.
6, 7, 6, 4, PU, 8, 5, 9, 7, 9, 6, 10, 7, 10, 7, 6, 8, 8, 10, 7, 9, PU, 14, 6, 5, 6, 8, 10, 10, PU, 6, 7, 5, 11, 7, 5, 11, 6, 7, 5, 5, 5, 12, 4, UR, 10, 3, 7, PU, 5, 11, PU, 4, 8, 10, 1
(PU - Pulled Up, UR - Unseated rider)