BHA 'monitoring' whip-less races after debut in South Africa
Last updated on .From the section Horse Racing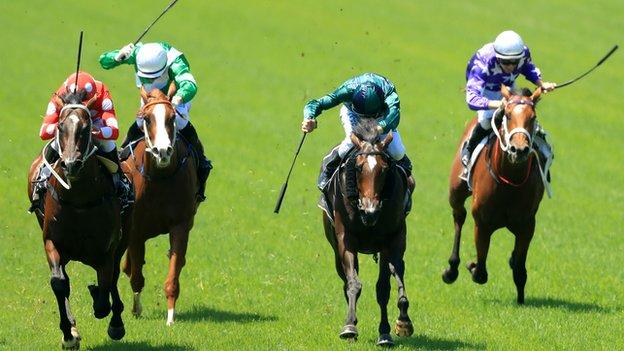 South African trials of whip-less races are being "monitored with interest" by the British Horseracing Authority.
The first race was held on Saturday, with the country's horse racing authority saying it was "a statement that needed to be made".
Jockeys have been criticised for overuse of the whip, most recently in the Breeders' Cup and Melbourne Cup.
In a 2018 YouGov poll for Animal Aid, 68% of respondents were opposed to jockeys using whips.
The British Horse Racing Authority said: "As part of the international racing community the BHA always monitors regulatory developments in other jurisdictions with interest."
Harsher penalties have been administered for overuse of the whip since new rules were introduced in 2011.
Jockeys have been given lengthy bans for breaching the rules, but BHA figures show that whip offences have reduced by a half since 2010.
In 2011, the number of times a jockey's whip can be used during a race was halved to seven in flat races and eight in races over jumps.
A maximum of five strokes can be administered in the last furlong or from the final obstacle.
After introducing a first whip-less race, Arnold Hyde - the acting chief executive of the National Horseracing Authority of Southern Africa - told the Racing Post: "Saturday's race was a statement that needed to be made because our industry is under pressure.
"We need to attract a new audience and there is a perception that [whip use] is an area of racing that may be seen in negative light".
He also said that another whip-less race was to be held "in the next couple of months".
Leading South African trainer Mike De Kock, who has won more than 100 Group and Grade One races said: "This was a good initiative and we got some good mileage out of it. In any case, the whip rule needs to be looked at."
Analysis
BBC horse racing correspondent Cornelius Lysaght
I know that there is a feeling among plenty of racing insiders that it is only a matter of time before much greater restrictions are placed on what jockeys can do with their whips in the UK, even if they're not outlawed altogether.
The British Horseracing Authority is happy with the rules as they stand, and has no specific plans, though of course it's monitoring developments in South Africa.
One obvious change would be more 'Hands and Heels' races - referring to jockeys' urging their mounts without recourse to the whip - which are rare and generally confined to inexperienced riders.
It is not so much because whip use is cruel - in the modern cushioned form, it isn't - or because infringements are rising (they've actually halved since a 2011 whip review, to 518 or 0.57% of rides in 2017).
It's because of the court of public opinion; many people I meet, and not just animals rights groups and their supporters, do not really buy assurances to the contrary, or assertions that riders need to be able to encourage or 'correct' their mounts if they go off a straight line.
All they see is a human hitting an animal.
Although the BHA insists it does what's right from a scientific/welfare point of view, at some point the pressure may become too great to resist making further amendments.
And one senior jockey said to me this week: "You have to say if they ban whips, would the Derby, the Arc, Royal Ascot still take place? - of course they would."