Sandown: British Horseracing Authority defends itself after wrong race result announced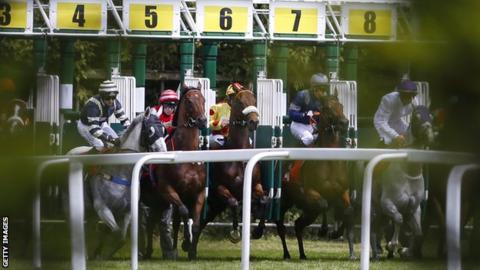 The British Horseracing Authority (BHA) has defended its procedures after a wrong race result was announced at Sandown on Friday.
In the first race of the day, judge Felix Wheeler gave Rio Ronaldo the win by a nose and Vibrant Chords second.
As of this week, stewards are required by the BHA to check judges' decisions when the result is very close.
The decision was then reversed, but some bookmakers had paid out before the result was officially confirmed.
Paul Arlotte, a syndicate member of Rio Ronaldo, said the confusion was "disappointing to take".
"If someone had said 'hang on a minute, maybe there is another view to be taken' that is fine, but we were just allowed to carry on as if we had won," he said.
"That is the most disappointing thing to take."
The new measures were introduced to ensure bookmakers do not pay out until the official 'weighed in' result is announced.
BHA chief regulatory officer Brant Dunshea, said: "Under the revised procedure judges will continue to announce the result as they first see it, but then a verification check will take place before the result is made official.
"The 'weighed in' announcement is the point at which a result is confirmed and at which point, under the rules of betting, bookmakers are obliged to pay out on the result, and not before. "
"We appreciate that there is a period whereby those connected with the horse who placed second will have thought they had won."