Aidan O'Brien: Do records stem from trainer's subtle whispers?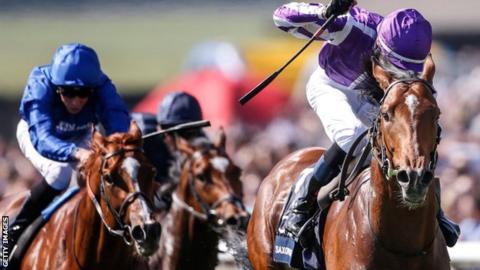 Investec Derby
Venue: Epsom Date: Saturday 2 June Time: 16:30 BST
Coverage: Commentary on BBC Radio 5 live and online
It's among the most frequently asked questions in horseracing: what's the secret of Aidan O'Brien's success?
Scooping up a growing list of major prizes around the globe, including a record-smashing 28 at Group One level in 2017, has seen O'Brien hailed as the greatest racehorse trainer of our time.
Since 1996, when O'Brien became private trainer at the palatially appointed Ballydoyle stables - headquarters of the Coolmore Stud-based bloodstock empire - 30 British and 39 Irish Classic-race trophies have landed up there.
And this Saturday, Saxon Warrior, the unbeaten odds-on favourite, plus the stable's other Derby contenders are looking to win their trainer the Epsom showpiece for a record-equalling seventh time, and fifth time in seven years.
Working with a long line of champion horses owned and nurtured by the Coolmore partners means that such a level of achievement should perhaps only be expected.
But as all sports coaches know, an awful lot can go wrong en route to the big day.
And when much of the brilliance of the athletes is contained within long, sometimes brittle limbs, and when they can't talk to explain any ailments, that is presumably even more the case.
But for O'Brien - while of course things don't always go to plan - serious problems don't occur often.
It's almost as though he has a special understanding of them, cultivated through an extra line of communication.
"Horses really listen to people's voices, they really respond to people talking to them kindly, and, the other way, if you're aggressive with them, they squirm up and don't like that," O'Brien tells me as we chat on the Ballydoyle gallops.
"If you talk to them and they're used to being spoken to, they pick up on words and really respond.
"Obviously, horses can't talk back to you in sound, but actions will speak greater than words. We get a lot of feedback from reactions."
Asked about being a horse whisperer, he switches quickly to his praise-everyone-but-yourself mode with which, having followed him for two decades, I am very familiar.
He said: "We have some unbelievably gifted, special people here, and all the people around us have that gift - we feel very privileged to have those people with us."
I'm not sure I've ever heard him take any credit himself for anything that's happened.
That's always deflected onto "the lads" - Coolmore partners John Magnier, Michael Tabor and Derrick Smith - for their immaculate planning of both races and the matings of their bloodstock; and on to the teamwork of the people at Ballydoyle and at Coolmore Stud.
And on to the horses themselves, of course.
O'Brien insists he and his family just count themselves fortunate to be part of a successful story.
But former champion rider Kieren Fallon, who was number one jockey at Ballydoyle for three seasons from 2005, says O'Brien is being too modest.
Fallon, whose autobiography included a chapter about O'Brien titled 'The God of Horses', told me his former boss could make a troublesome horse as quiet as a mouse.
He said: "Scorpion was a very difficult horse, very boisterous, and I remember saying to Aidan at The Curragh [racecourse] one-day, because the guy leading him up was all over the place, 'could you take him?'
"He just put his hand on Scorpion and led him out, and he walked out like a mouse, and as soon as he let him go, he just took off with me.
"Horses are very sensitive animals and when he's around them, they respect him… they're like lambs."
Scorpion ended up becoming O'Brien's third Doncaster St Leger winner in 2005, and, in retirement, a notable stallion.
Persuading a potentially exuberant racehorse to channel their energies into performance is one of training's greatest skills.
There's no doubting that many factors play into O'Brien's success, chiefly that he has horses to train that are bred in the purple at Coolmore, and that there are world-class facilities and staff to look after them at Ballydoyle.
But there also seems to be a fairly extraordinary affinity between the trainer and the animals under his care.
Some would call it horse whispering. Though never, I suspect, the man himself.