Horse Racing: Weather causes 60 races to be cancelled in UK
Last updated on .From the section Horse Racing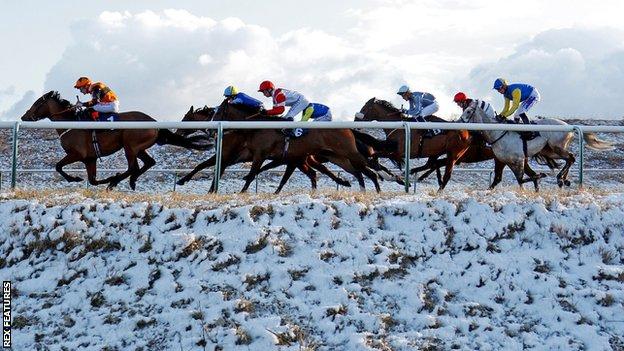 Sixty horse racing fixtures have been cancelled in Britain because of bad weather this year - the worst the sport has been affected since 2010.
British Horseracing Association (BHA) figures show 52 jump and three flat events have been abandoned, as well as five all-weather track meetings.
In 2010, 69 fixtures were called off. Last year, there were just 16.
"It's hit revenue quite hard," said Ilona Barnet, general manager at Stratford Racecourse in Warwickshire.
Speaking to BBC 5 live's Wake Up to Money, she explained that the course lost meetings on 12 March and 7 April and, although they pay staff if the fixture is abandoned on the day, there is no such provision if the decision is taken earlier.
"That has a better impact for the racecourse but it's tougher on the people who work with us, so our caterers, the lady who does the trophies, the physiotherapist… absolutely everybody," Barnet added.
Fakenham Racecourse in Norfolk has also cancelled two fixtures - including on Easter Monday - because the ground was too wet, something chief executive David Hunter describes as "extraordinary".
He said: "We're on very light land, we drain well and we tend to have less of the heavy rain on this side of the country.
"We lost Easter Monday and if the weather's on our side and all the stars are aligned, that's our really big day of the year. We'd normally take £55,000 of gate money, plus hospitality and catering income."
It's estimated the horse racing industry generates around £3bn a year and employs some 85,000 people.
As well as racecourse staff, jockeys can lose income when racing is abandoned as they are paid per ride and receive a percentage of their winnings.
"Sometimes we do get compensated, but most of the time you don't get anything," said Sean Levey, who rides with Richard Hannon.