Grand National: Commentators on highs and lows of big Aintree race
Last updated on .From the section Horse Racing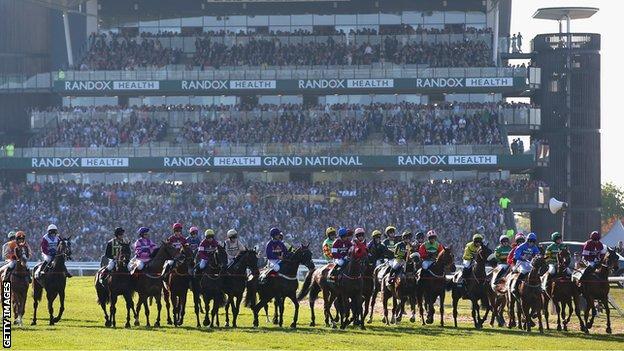 Randox Health Grand National
Date:
14 April
Venue:
Aintree Racecourse
Time:
17:15 BST
Meeting:
12-14 April
Coverage:
BBC Radio 5 live, sports extra and sport website.
More details
With 40 runners negotiating 30 fences over more than four miles, thrills and spills are guaranteed in Saturday's Grand National.
Three BBC commentators - Jim McGrath, John Hunt and Matt Hill - recall some of their highlights, memories and pitfalls from the famous Aintree race.
'Like trying to climb Everest'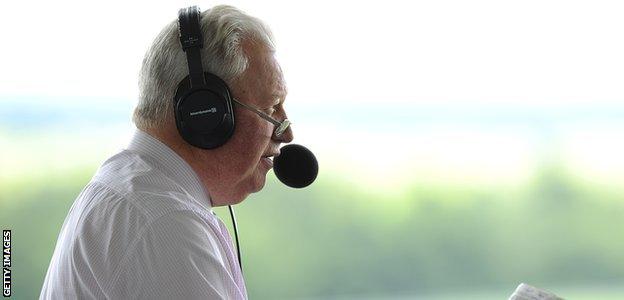 Jim McGrath commentated on 20 Nationals and took over from Sir Peter O'Sullevan after his retirement in 1997 until BBC TV's last broadcast in 2012.
"It's a great buzz calling the National. Every year, it was so exciting to be doing it - just the enormity of the challenge, the uncertainties, it's absolutely unique." says the Australian.
"It's like a climber trying to climb Everest: the ultimate test - to be able to identify the runners, get some flow into your commentary and, above all, pick the fallers as they fall."
His compatriot Matt Hill will be on duty this year for BBC Radio 5 live, with regular racing commentator John Hunt in Australia working on the Commonwealth Games.
"It's an absolute honour to follow my idols," says Hill. "I remember getting a video and listening to Jim call Papillon beat Mely Moss in 2000 and said to my grandfather that I would absolutely love to call that race one day."
Hill will be joined by Gary O'Brien, Darren Owen and Martin Harris from various points of the course as they describe the action to listeners.
"Because the field spreads out over such a long distance, you can often have the leaders jumping one fence and others going over the preceding fence. You do need another pair of eyes," says McGrath.
Expect the unexpected
The National's history is littered with drama such as 100-1 shot Foinavon's victory after a pile-up in 1967 and Red Rum's record three wins in the 1970s.
McGrath was stationed at the Becher's Brook fence for his first commentary in 1993 when one of the biggest stories unfolded.
Esha Ness, ridden by John White for trainer Jenny Pitman, was first past the post but only after several runners had been called back after a false start.
Amid chaotic scenes, the race was declared void and was never re-run.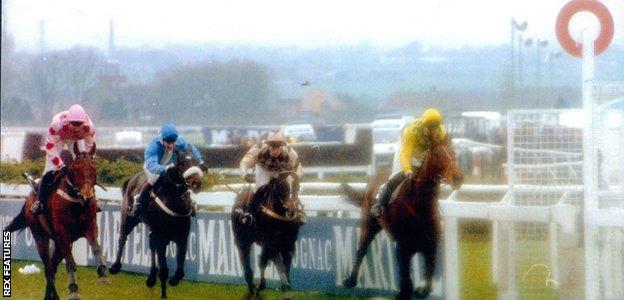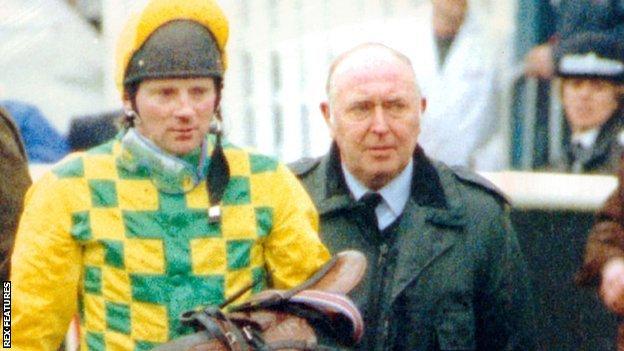 "I was so excited beforehand that I was going to do it at last. I went there full of anxious feelings, hopes and nerves," recalls McGrath
"It turned into the most surreal experience. I can hardly describe how disappointed we all were after the race, that it just hadn't happened."
Four years later, the race was postponed after a bomb scare, with Lord Gyllene winning the rescheduled contest on the Monday.
McGrath, in his position at Becher's Brook, was the sole broadcaster left on Saturday afternoon as crowds were cleared from the course.
"I was just about to leave when I was told 'Standby, Jim, we're coming to you,'" he says.
"I didn't have any time to think about it. If someone said you're going to hold the fort for 13 minutes and 50 seconds, you might get a tad nervous.
"Everybody was evacuated and the lone voice was me. They forgot about me. Security didn't know I was there and I just kept chatting away. It was another absolutely unbelievable situation at Aintree."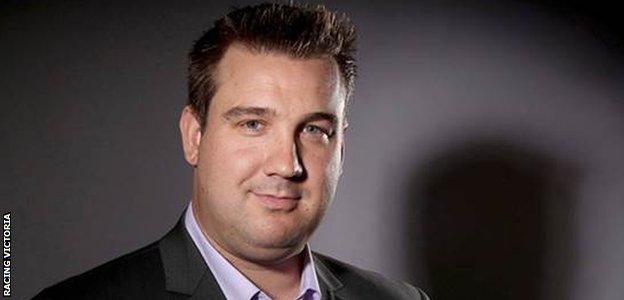 Hill has been part of the radio commentary team before and remembered the 2005 race when Clan Royal, ridden by champion jockey Tony McCoy, was carried out by a loose horse at Becher's Brook on the second circuit when he was well clear of the field.
"I thought we had Foinavon all over again," he says. "The way the horses cut across the fence was so dramatic that Tony McCoy ended up on the inside rail and the horse crashed through it.
"The rest of the horses were able to jump Becher's Brook. For a moment, it could have been catastrophic."
'On the precipice of making a mistake'
The pressure on commentators is immense. There are millions following the race, hanging on very word.
Knowing the numbers, colours and statistics is vital - and still, errors can creep in.
"You have to know the history of the race, how many rides jockeys have had, statistics for trainers, any identifying features of a horse, a grey or a horse with blinkers," says McGrath.
"You have to get it right. You're the messenger, as the great Sir Peter O'Sullevan used to say.
"You are telling them what's happening - most of the people following have had one bet a year. If you get it wrong, they are always going to remember that.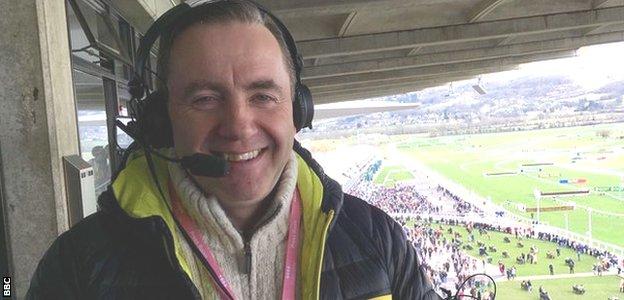 Hunt is a widely respected commentator, but even the best can say the wrong thing among the chaos of the big race.
"I remember going back a few years I got a wrong faller," he says.
"There were two horses - Paris Pike and Djeddah. They used to run in more or less the same colours. Looking back, that is all the more reason to be absolutely sure you know the difference between the two of them. I got them wrong and I was absolutely crestfallen walking away from the track.
"Probably barely anyone noticed in the overall scheme of things. It wasn't the very worst thing that could of happened, but you couldn't console me that day."
But mostly, it goes right.
"You'll never get a race like the Grand National. We are all on the precipice of making a mistake," says Hill.
"We love the adrenaline rush of doing something live. We only get one crack at it. And you walk away at the end of the day hopefully really proud."