Grand National: Bob Davies remembers Lucius, the first horse to win after Red Rum
Last updated on .From the section Horse Racing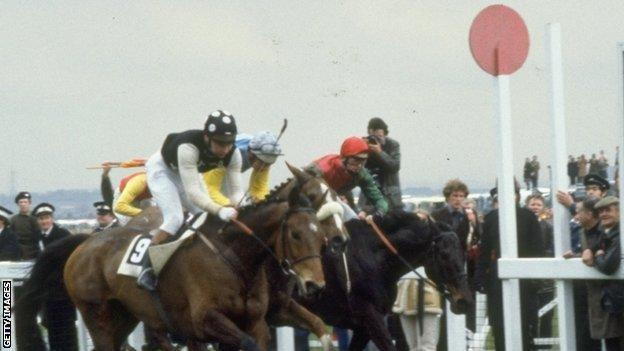 Randox Health Grand National
Date:
14 April
Venue:
Aintree Racecourse
Time:
17:15 BST
Meeting:
12-14 April
Coverage:
BBC Radio 5 live, sports extra and sport website.
More details
Bob Davies would have been forgiven for rolling up at Aintree on 1 April 1978 thinking he did not have much chance of winning the Grand National.
Lucius was only the Shropshire jockey's fourth ride in the race - and he had previously only got round the 30 fences once on National day.
He had originally been booked to ride at Towcester that day.
He had never sat on his horse in a race, having only inherited the spare ride when Lucius's regular pilot Dave Goulding was injured in a fall at Wetherby five days before the race.
And, perhaps most dishearteningly of all, he was to be up against Red Rum.
A year earlier when the great Rummy won for the third and final time, Davies, on Duffle Coat, had fallen at the first fence - one of seven fallers.
But fate was to have a fortuitous twist or two for Davies.
The legendary Red Rum, by then almost 13 years of age, was withdrawn on the morning of the race having suffered a hairline fracture the day before.
It was no April Fool's joke. Suddenly, the field was reduced by one. And, for Davies, it turned into a triumph that is still billed to this day as "one of the best spare rides in history".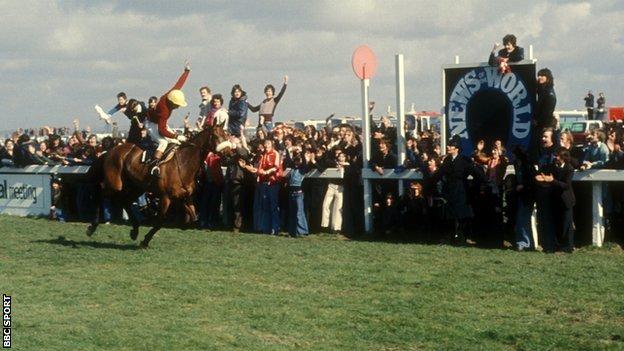 Not that Davies ever doubted his chances, whether Red Rum had been fit or not.
"I was a bit lucky," he told BBC Sport. "But only in the way I got the ride. Make no mistake about it, Lucius was a very good winner.
"Dave Goulding should have ridden him for Gordon Richards, as he was his jockey, but he hurt his back at Wetherby on the Monday.
"I was at Wetherby on the Tuesday and one of the other jockeys Ron Barry said to me 'Do you have a spare ride in the National?'
"I told him I was actually due to go to Towcester that day but he said 'Well, Lucius is going spare. I'll have a word with Gordon.'
"I went back that night to look at his form, which showed he was best over two and a half miles but that he had also won over three and didn't like being in front. He'd got a live chance."
And so it proved in one of Aintree's best finishes.
How O'Sullevan called it...
Having taken the lead following the fall of the much-fancied Tied Cottage on the first circuit, Davies allowed Lucius to drop back behind the leaders as per instructions. But the Cumbria-trained horse was to prove the best finisher.
Taking up the words of BBC racing legend Peter O'Sullevan...
"Just over a furlong to run, and it's Lucius and Bob Davies now just taking an advantage... The Pilgarlic running fast on the far side... But it's Lucius from Sebastian as they race into the closing stages... Lucius from Sebastian... with Drumroan putting in a tremendous finish... But at the line... Lucius wins the National..."
As current champion jockey Richard Johnson found out only a year ago, being top of your profession does not guarantee any jockey a ride in the Grand National.
Despite having three times been champion jockey, Davies only rode in the great race seven times.
A year after winning on Lucius, he nearly did it again, picking up another spare ride to finish a close second on Zongalero behind the winner Rubstic. But his eighth-place finish on Prophecy in 1973, the year of Red Rum's first victory over Crisp, was the only other time he completed the 30-fence course.
He also fell on Beecham in 1968, pulled up on The Vintner in 1980 and fell again at the sixth on Royal Mail in 1982, the year he retired.
Davies on Aintree now
"Aintree will always have a special place in my heart," said Davies, who carried on his connection by working for the BBC as a summariser. "The race has changed.
"It's living on its past a bit. Although it's lot easier there, it's not necessarily any quicker.
"Some of the alterations have been right. Some I don't agree with."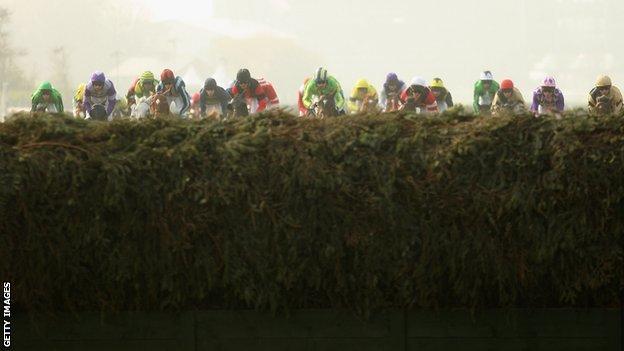 The most famous horseracing obstacle of them - Becher's Brook - accounted painfully for Davies just once, in a Foxhunters' Chase. And he admits it is now not quite such a fence to be feared.
"The fences are a lot easier now," he said. "They changed a lot while I was still riding.
"The biggest change to Becher's was not filling in the drop but moving the outside rail because the horses then jumped the fence straight. Before that, they were jumping into the crowd.
"The first year after they made the changes, there were two hoof prints on the ground that had been built up. Everything else cleared it because they were jumping straighter.
"You couldn't have the fences as they were 40 years ago, as it wouldn't be acceptable today. But I hope it doesn't become just another long-distance chase."
Life after racing
Davies, the son of a Shropshire farmer, began life just south of the county town Shrewsbury, in 1947.
While still being educated at Sandhurst, he rode his first winner at the popular Eyton Point-to-Point races as a 14-year-old on Easter Monday 1961.
It was also over Easter in 1966 that he rode his first winner under National Hunt rules, at Newton Abbot.
And he went on to become champion jockey three times, sharing it with Terry Biddlecombe in 1968-69, before winning it outright the following season, then again in 1971-72.
After his painful final fall on Royal Mail and retirement in 1982, his main intention was to return to the family farm, but he instead became one of the first professional jockeys to go into racecourse management.
It is a job he has now done at his local course Ludlow for over 35 years, mostly as clerk to the course - and now as general manager, after Simon Sherwood succeeded him as clerk to the course in 2014.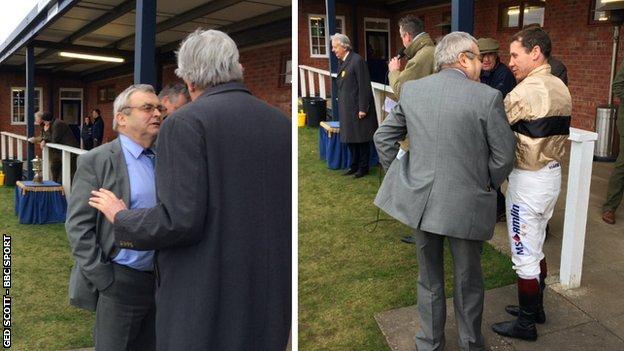 "It wasn't planned," he explained. "I never wanted to train when I finished riding.
"But I was always interested in the admin side. And then John Williams, one of the directors at Ludlow, phoned and asked are you interested in taking over as clerk to the course at Ludlow and Bangor when John Moody retires.
"I started working alongside him, then took over when John went in May 1984. I did Bangor for about 12 years and I'm still here at Ludlow.
"I tried to do it on the philosophy by which I was brought up by my dad from farming. You live for today or tomorrow, but you farm as if you live forever."
It was a course he rode on seldom in his early racing days when, while still at agricultural college, he rode in a lot more races than he attended lectures while riding for West Country trainer Les Kennard.
"I didn't have that many rides at Ludlow as the people I rode for raced in the south," he said.
But he has become one of the most recognisable features of the popular and still profitable South Shropshire track.
"Whatever you do, you hope that, when you finish, it's better than when you started," he said. "People enjoy themselves, we don't rip anyone off, we give value for money and try to improve facilities as and when we can afford to.
"We've improved the stables, built two new stands, we've had help from the Levy board, with no outside finances and no debt.
"I've been very lucky that I have done my hobby all my working life."