Trainers 'do not use female jockeys' despite findings of new study
Last updated on .From the section Horse Racing
Some trainers refuse to use women as riders despite a new study finding female jockeys are as good as men, says jockey Gemma Tutty.
When the quality of horse was factored in, there was little disparity between the performances of male and female riders, a 14-year study by the University of Liverpool found.
Only 11.3% of professional jockey licences are currently held by women.
"There are trainers who, point blank, do not use female jockeys," said Tutty.
"Before we've even had a ride, we're at a disadvantage because there are less trainers willing to use us," added Tutty, who has almost 50 winners from more than 600 career rides.
"I hope this helps to persuade more owners and trainers to give female jockeys a chance in the saddle."
Only 5.2% of the available 1.25 million individual rides during the study - which was carried out through the university's Thoroughbred Horseracing Industries MBA - were taken by female jockeys.
But women account for more than half of all stable staff, up from 42% in 2010.
"I hope this study encourages more women to further their careers as race riders," said Vanessa Cashmore, author of the study.
In March 2017, female jockeys in France were provided with a 2kg weight allowance in certain races.
Since then, the number of starters ridden by female jockeys in flat racing in France has doubled, with a 165% increase in the number of wins by women.
The British Horseracing Authority says it will take steps to address the differences between male and female riding opportunities.
Nick Rust, chief executive of the BHA, said: "We are proud that British racing is one of the few sports where men and women can compete on equal terms.
"However, if female jockeys are not being given the same opportunities as men, then this cannot be considered as equality."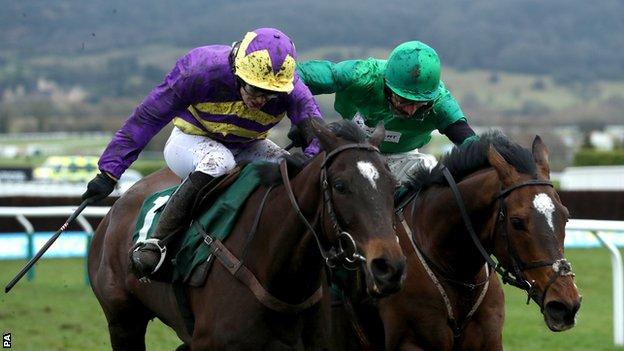 Analysis
BBC Sport correspondent Joe Wilson
Gender diversity is especially poignant in horse racing.
It's clear there is huge interest in the sport among young women. The entry point into a career in horse racing is to work in a racing yard as a groom - 51% of the stable staff jobs across Britain are taken by women.
When I was filming a piece at Fergal O'Brien's yard in the Cotswolds in December, I talked to one of the young women, Lily, who was up before 6am to muck out the stables. She was clear about why she was working so hard; her goal was 'to be a professional jockey'.
Many will share that ambition - so why do so few actually get rides?
This new report gives statistical and analytical weight to the notion that women ride as well as men.
The BHA tells me they take it very seriously and the governing body acknowledges there is a big issue.
As much as racing provides a rare opportunity for men and women to compete against each other, the answer, in part, may be to separate jockeys.
Last year saw the introduction of the 'Silk series', a championship for women jockeys. Spread over nine races on different courses, it offered significant prize money and - crucially - opportunity.
The overall winner Megan Nicholls acknowledged that the series had given her the chance to ride for, and impress, new trainers.
Ultimately women jockeys can only show what they can do if they get horses to ride. Not just in quantity but also quality.