Prix de l'Arc de Triomphe: Frankie Dettori's Enable favourite but narrow track raises doubts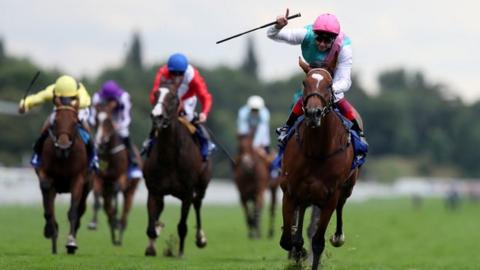 Qatar Prix de l'Arc de Triomphe
Venue: Chantilly racecourse Date: Sunday, 1 October Time: 15:05 BST
Coverage: Commentary on BBC Radio 5 live
As John Gosden contemplates a second success in three years in the Prix de l'Arc de Triomphe, this time with star-filly Enable, it's clear there's one big concern on his mind.
Large enough indeed for British Flat racing's pre-eminent trainer, the Arc winner in 2015 with Golden Horn, to repeat it three times during our chat.
It's not so much about the opposition lining up against the four-time Group One race winner, the hot favourite, though Gosden has "plenty of respect for a lot of horses in the field".
Nor about the potential for very soft ground conditions, even if they "could take the aesthetic beauty out of the day".
And the 66-year-old believes that fears that the lengthy campaign undergone by Frankie Dettori's big-race mount might have taken their toll are unfounded, describing "a very happy filly, looking great and eating us out of house and home".
No, it's Chantilly, host of Europe's most prestigious - and most valuable - Flat racing prize for the second year as regular-home Longchamp is closed for re-development, which has been creating anxiety.
Speaking to 5 Live Sport, Gosden said:"If the race was run at Longchamp I'd have a lot more confidence.
"I think the management at Chantilly has done a brilliant job with the track and the grass and everything because they have had a massive amount of racing loaded on them.
"But there is no doubt it is a narrow track. At Longchamp, when you straighten up, you do have a lovely long run to the finish-line.
"Chantilly is a totally different track, including a very tight hairpin bend, where they tend to drop anchor and steady it [slow down] and they can get really concertinaed round there.
"Quite often the best horse does not win at Chantilly because of the nature of the track."
Enable, owned by Saudi prince Khalid Abdullah, has emerged as the biggest name of the Flat racing year with top-level wins in the Epsom, Irish and Yorkshire Oaks, as well as against male opponents in the King George VI and Queen Elizabeth Stakes at Ascot in July.
She faces up to 17 opponents, including King George runner-up Ulysses and the Aidan O'Brien-trained filly Winter, another four-time Group One race winner, as amongst the shortest-odds favourites in the Arc's 96-year history.
So, expectations are high for the filly, a daughter of the Gosden-trained Nathaniel, but her trainer, twice British Flat racing's champion, is trying not to let the occasion get to him.
He said:"If you don't feel there's pressure, it's not natural, but the great thing is the filly doesn't feel the pressure, and then the key thing is that the jockey isn't feeling the pressure, and he's pretty mature now so hopefully he won't.
"You just do your job, treat it like a nice, normal race.
"Of course, you're watching and checking every single thing all of the time, but you're not a lot of good if you go around like a neurotic nutcase."
Having the 5m Euro (£4.4m) race's most accomplished rider on board Enable helps to ease any jangling nerves.
Dettori, who is in the line-up for an impressive 28th time in 29 years - he was absent in 2013 with a broken ankle - is looking for a record-breaking fifth victory.
Gosden jokes that with four wins from those 28 attempts "his batting average isn't very good, is it?", but he knows, of course, that the presence in the saddle of one of the foremost riders on the globe is priceless.
"A rider of his experience, and the respect he has with other jocks all around the world, makes him a special person and a remarkable jockey.
"Of course, I'm lucky to have him."
Gosden and Dettori - close friends as well as work colleagues - have been associated since the time the trainer returned to his British roots in 1989, following a spell based in California that was rated highly-successful.
Indeed, he fondly recalls legendary trainer Charlie Whittingham offering to "come and pack for you" when rumours circulated of the trans-Atlantic move.
On setting up in Newmarket, all the chat was of "when" not "if" he would take the sport in Britain by storm.
But it's fair to say that progress wasn't quite as quick as anticipated, and he admits that "for the first 10 years" he wished he'd stayed put, plus he considered applying to train in Hong Kong.
What a long time ago that feels now as Gosden travels to Chantilly very much at the top of the tree, and with an outstanding chance of another Arc success so soon after the first.
Though he's taking nothing for granted, and said: "We work hard for this sort of thing, but we don't start counting any chickens at this stage - we'll just wait to see what happens.
"And, I'm not being mean but I just wish it was at Longchamp."