Two racehorse owners fined £1 by British Horseracing Authority after rules breach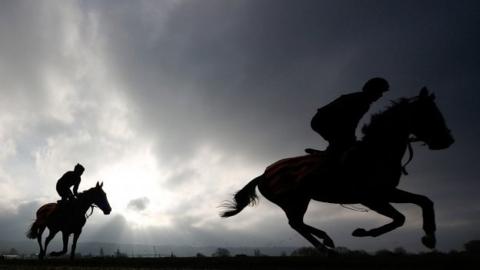 Two racehorse owners have been fined 50p each "as a token gesture" after a British Horseracing Authority (BHA) disciplinary case.
Sarah Oliver and Sharron Wilson faced charges after their horse, Green Winter, had elevated levels of carbon dioxide before a race at Stratford.
An inquiry heard trainer, John Bryan, gave bicarbonate of soda to the horse.
Despite the owners being cleared of blame, they were considered the "responsible persons" under the rules.
It is thought the BHA will now look at whether the rules will need amending.
The abnormal reading showed up in a blood test before a hunter chase in May 2016, but Bryan did not inform the owners and decided to run the horse, who ran badly and was pulled up three fences from home.
A disciplinary panel said the administration of sodium bicarbonate may have been well-intentioned as he feeds all of his horses this substance to help prevent colds, but the horse gave a reading above the permitted level, effectively testing positive for a banned substance.
The rules date back to a time when horses in hunter chases and point-to-point races - jump races confined to amateur riders - were mainly trained, and often ridden, by their owners, whereas it is now commonplace for such horses to be professionally trained.
In professional racing, the racehorse trainer would normally be considered the person responsible.
The panel said although the owners were "entirely blameless" a penalty had to be imposed.
It criticised raceday stewards for not contacting the owners and the length of time it has taken to bring the case.
"In our judgement, a token fine of £1 (that is 50 pence for each owner) is the appropriate penalty in this case," it said.
What the BHA says
The BHA says it has already taken action to address some of the issues raised, including dealing more quickly with such cases.
"While a breach of the rules was identified, we note the panel's finding on penalty and will assess their comments with regard for the broader implications," it said.
"We will take them on board, endeavour to learn from this case and consider what further actions can be taken to those already put in place on various fronts."