Nina Carberry: Pregnant jockey to miss rest of the season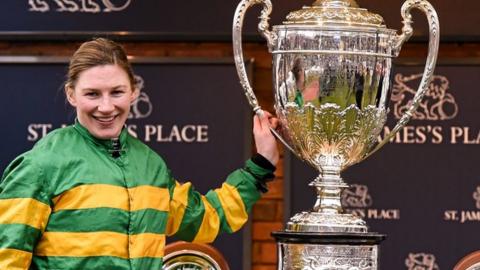 Leading female jump jockey Nina Carberry is pregnant and will miss the remainder of the season.
Amateur rider Carberry, 32, has won six races at the Cheltenham Festival and ridden six times in the Grand National at Aintree.
"I am going to miss the rest of the season as I am delighted to announce that I am expecting my first baby," she tweeted.
She is married to Ted Walsh junior, the brother of jockeys Ruby and Katie.
"I would like to thank all the owners and trainers who have supported me and I wish them every success in the season ahead, " added Carberry, who won the Irish Grand National in 2011 on Organisedconfusion.