Jason Ward: Trainer faces BHA investigation for 'racially offensive language'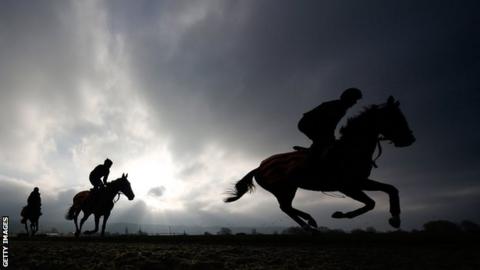 Trainer Jason Ward faces a British Horseracing Authority investigation for using "racially offensive language".
The Briton used a racial stereotype when discussing his horse Monte Cinq on the At The Races television channel.
BHA spokesman Robin Mounsey said: "There is no place in British racing for racially offensive language."
Ward later apologised, saying: "It was not meant in a racist way, in any shape or form, and I can only apologise for my choice of words."
He wrote on his website: "It's very, very important that I apologise sincerely to anyone that I have offended with my post-race comments this afternoon, at Wolverhampton."
Mounsey added: "We are taking this matter very seriously. We will be taking the appropriate steps in relation to this matter."
North Yorkshire trainer Ward's original comments were made after 10-1 chance Monte Cinq won a five-furlong maiden race at Wolverhampton.