Joe Colliver: Jockey wants to resume riding career after release from prison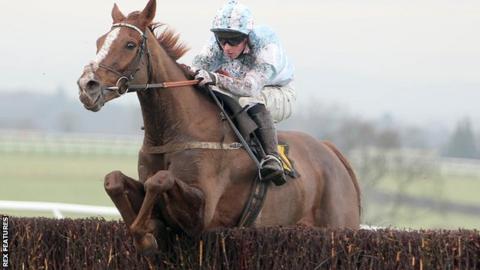 Jockey Joe Colliver says he wants to resume his riding career after being released early from prison.
He served almost three months of a 10-month jail sentence handed out in August for lying about the circumstances of a drunken car crash.
Colliver, who is wearing a tag, will be at Wetherby on Saturday to receive his award for being top young jockey during the Yorkshire track's 2015-16 season.
In a statement Colliver said he wants to "rebuild my life and career".
Colliver, who was rated among the leading young riders on jump racing's Northern circuit, paid a friend £2,500 to claim responsibility for a car crash in December 2015.
The jockey was twice the drink drive limit at the time of the crash.
Colliver and his friend, both pleaded guilty to perverting the course of justice at Teesside Crown Court and were jailed for 10 months.
Colliver also pleaded guilty to drink driving and was banned from driving for 17 months.
He described the incident as "foolish misjudgement" and a "dreadful mistake".
In a statement released on Friday, Colliver said he has been released on curfew and is back working at trainer Micky Hammond's yard.
He added: "I've had several months to think about my actions, and what I want to do now is to learn lessons from this and rebuild my life and career if I'm given the chance.
"I'd like to thank him and all others in racing who've supported me, and to apologise to those I've let down.
"I look forward to working hard to regain the respect of those within racing so that I can hopefully obtain my professional jockey's licence in due course."
Colliver has not yet applied to the British Horseracing Authority for a new licence.