Why are we changing Horse Racing results pages?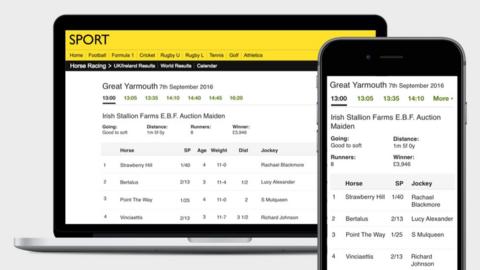 BBC Sport is launching a new horse racing results page as part of our work to provide you with a better experience whether you are on a computer, tablet or mobile.
The new page has been designed to bring you a more comprehensive guide to the day's race cards across the UK and beyond.
These new results pages will also make it easier to read and find the results you are looking for from previous days, no matter what device you are looking at them on.
Below we answer some of the most common questions relating to the new pages.
What improvements are there in the new designs?
The new designs will allow us to display far more information about each day's race cards than before, giving users greater depth of coverage.
It means we can also provide more information in advance of a race, and more detail of the runners and winners once a race is complete.
The new layout is also designed to take account of the different type of screens visitors look at our results page on, allowing us to present a richer experience for you.
Why have you made these changes?
We are completing the process of switching BBC Sport over to a responsive design - this means the pages adapt automatically to the screen size of the device you are looking at it on.
This move will allow us to provide the same content irrespective of the device a user is looking at the site on, giving visitors the best experience no matter how they are looking at the site.
We also know from feedback that users want more detail in their racing results, and these changes are designed to offer that.
Can I give my feedback?
We welcome all feedback on the new design - simply contact us via our feedback form.