Jockey Cathy Gannon fined £290 for food tweet at Newbury
Last updated on .From the section Horse Racing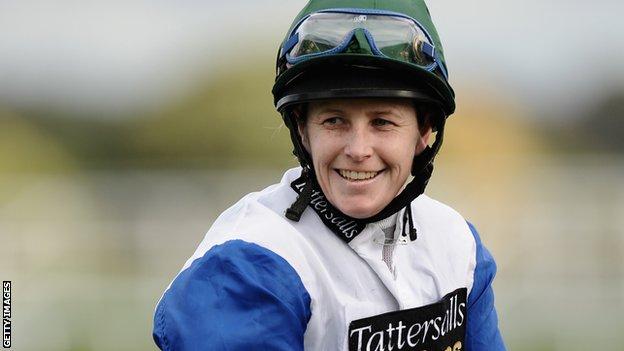 Jockey Cathy Gannon had to fork out £290 after complaining about the quality of food at Newbury.
The Irish rider, 33, was fined that amount for posting a picture criticising the meals served up to jockeys at Friday's meeting.
"This is the quality of food at @NewburyRacing this is our fuel #athletes," she tweeted.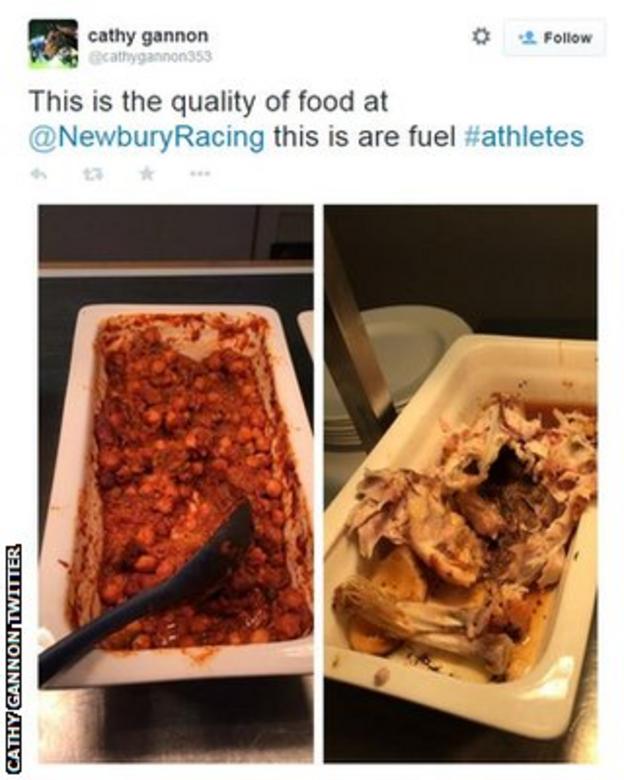 But Gannon breached a rule stating no rider may use a mobile telephone in the jockeys' changing room.
The stewards report stated: "Following a report from the clerk of the course that Cathy Gannon had taken a photograph on her mobile phone from within the jockeys' changing room during racing, which she later put on Twitter, they interviewed the rider and took evidence from the clerk of the course."
Professional Jockeys Association chief executive Paul Struthers tweeted: "Fined £290 for taking a picture after you've finished riding and tweeting it after leaving the racecourse. #pathetic."
The rules were brought in as a part of a drive to improve integrity, and stop jockeys from being tempted to pass on inside information about rides.
But stewards do have discretion and could have cautioned Gannon for effectively using her phone as a camera and posting the tweet later.
She was riding on day one of the meeting where the feature race on Saturday - the Al Shaqab Lockinge Stakes won by Night Of Thunder - boasted record prize money of £350,000.
However there was a silver lining for Gannon when her riding colleagues had a whip-round to help cover her costs.
"Good effort from the lads at Newbury and Newmarket," tweeted Struthers with a picture of cash left in a polystyrene coffee cup.
Gannon said on the social networking site: "Thanks for all your support. I broke the rules, I must except the punishment. I only did it as they don't listen."
BBC racing correspondent Cornelius Lysaght
Technically speaking, Gannon did break the mobile phone rules by using hers outside the designated area, but, for goodness sake, those regulations are to stop skulduggery not tweeters.
And I've seen dozens of photos taken in jockeys' rooms on social media, but they tend to have 'harmless' subject matter; in this case, there's criticism of the racecourse, leaving the stewards open to suggestions they are just being spiteful.