AP McCoy: Jockey closes on Martin Pipe winners record

By Cornelius Lysaght
BBC horse racing correspondent
Last updated on .From the section Horse Racing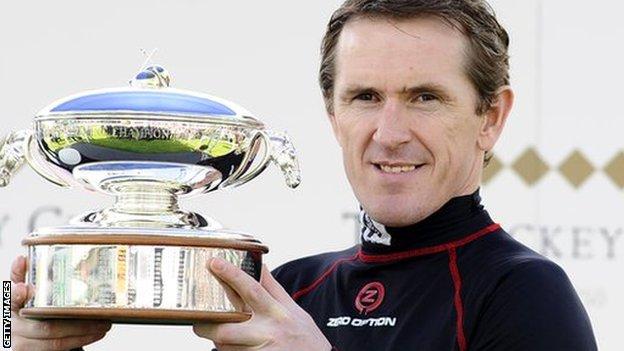 AP McCoy is bearing down hard on one of the most personally significant landmarks of his glittering career, equalling the number of winners clocked up by his mentor and friend Martin Pipe, the 15-time champion jumps trainer.
At one point, there was even speculation that McCoy, who passed the 4,000 winner mark amid a blaze of publicity in a race at Towcester in November, might use the occasion to call it a day.
Such a notion is easily dismissed when assessing the dizzying pace the 40-year-old is setting towards an anticipated 20th title this National Hunt season.
But the threat to his own landmark of 4,191 prompted the now-retired Pipe, British racing's winning-most trainer, to jokingly declare: "If he does that, I'll take out a licence and train a few more winners".
It's familiar banter to McCoy, who counters affectionately: "Well, he'd have to do the trainer's course they have to now, and I haven't heard any reports of him being in Newmarket for that recently.
"We've been having plenty of emails and texts between himself and myself and my wife [Chanelle]. I got beaten on an 8-13 shot the other day and got a text on the way home from him taking the mickey.
"I don't want to be bragging about beating him until getting five or six in front though, because he'll be keeping an eye on me, and will probably find another winner from somewhere.
"But, seriously, it's a huge number of winners and he's somebody I've always admired and been lucky enough to work with, so after the 4,000, this became the next target."
Research by racing historian John Randall puts Pipe's final tally when handing over the reins of his powerful West Country base to son David in 2006 at 4,191 winners.
For Pipe, 3,930 were in British jump races, notably Grand National hero Miinnehoma (1994) and champion hurdlers Granville Again (1993) and Make A Stand (ridden to victory by McCoy) in 1997.
Five more came in Ireland, three in France, plus 253 on the Flat in Britain.
McCoy, who finally lifted the Grand National prize at his 15th attempt on Don't Push it (2010) - the year he also became the first jockey to land the BBC's coveted Sports Personality of the Year - is currently poised just short, on 4,188 (after racing on Monday 7 July).
It is calculated that 4,038 were in British jump races, including every major race bar - good bit of trivia this - the Cheltenham Festival's World Hurdle - 134 in Ireland and nine when riding on the Flat.
Of the current season, which has already seen the relentless Northern Irishman break his own record for the fastest half century, he said: "I've had a good start riding for Jonjo [O'Neill], who's flying as always, and for Donald McCain as Jason [Maguire]'s been injured, and for Kim Bailey and John Ferguson.
"I'm not sure I see the pace as frenetic, but it's certainly good.
"To beat my fastest 100 [reached on 4 September], I need to get to about 85 by the end of July because there's not so much racing in August."
As for reaching a seasonal score of 300 for the first time - 289 (2001-2 season) is McCoy's highest total to date - he added: "That's a huge number, and you need to be in one piece, not getting too many injuries, or suspensions.
"It'll be very tough, and I'll be in Ireland a lot during the winter. That'll make it tough but it would be great obviously, and I'll be giving it a go."
And it would also make a simply extraordinary 5,000 seem all the more realistic a prospect.