Aidan O'Brien: Australia Epsom Derby win seals legend of trainer
By Frank Keogh at Epsom
BBC Sport
Last updated on .From the section Horse Racing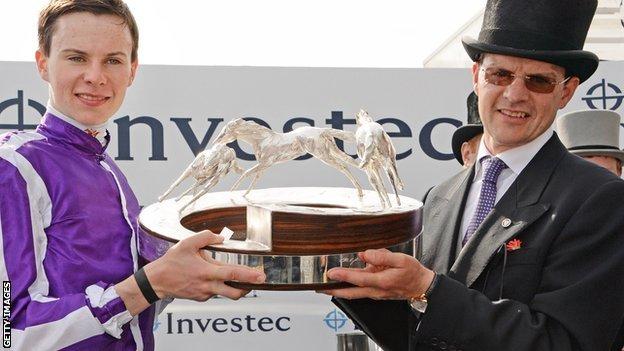 Genius is an overused word, though it is difficult to separate it from the record-breaking Irish racehorse trainer Aidan O'Brien.
The quietly-spoken 44-year-old took over the mantle of the famed Ballydoyle stables 18 years ago with a feast of fine bloodstock and a shedload of pressure.
His namesake Vincent O'Brien, who is no relation, scaled unsurpassed heights as the exceptionally gifted master of the Tipperary thoroughbred operation.
But while following on from sporting giants can be a no-win situation, as David Moyes found when succeeding Sir Alex Ferguson as manager of Manchester United, Aidan has coolly set his own landmarks.
The victory of racehorse Australia in the 235th running of the Epsom Derby on Saturday was the first time a trainer had ever saddled the famous flat-racing Classic winner three years running.
Just like Vincent, Aidan has enjoyed success over the jumps too - securing another notable hat-trick with Istabraq in 2000, when he won the Champion Hurdle at Cheltenham for a third time.
John Magnier, the wealthy bloodstock guru who set up the Coolmore Stud near to Ballydoyle in the 1970s as a breeding base for retired racing champions, took a gamble by bringing him in.
When I asked the straight-faced Magnier, reportedly Ireland's 11th richest man worth around £650m, what qualities he saw in the young trainer when hiring him in 1996, he replied simply: "I read the papers."
The papers told him Wexford-born O'Brien, despite only being in his 20s, was a winning machine, racking up triumphs from an unheralded yard in Piltown, County Kilkenny.
His tally of big-race successes since moving to Ballydoyle makes frightening reading for his rivals - 21 victories in the top-level British Classics and 30 in Ireland.
O'Brien had said before the 2014 Derby that Australia was the best horse he had trained and the beautifully athletic colt swept to an impressive victory from runner-up Kingston Hill, albeit by the relatively short distance of a length and a quarter.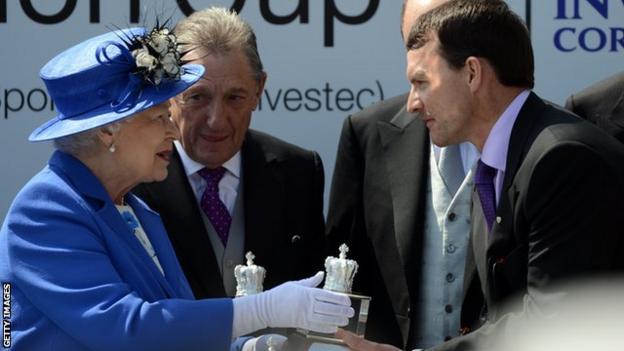 While the horse boasts perfect pedigree as the son of O'Brien's 2001 Derby hero Galileo, and 2004 Epsom Oaks winner Ouija Board, his innate speed could lead to a drop in trip for him in the future.
"We always thought this horse was special from the very first day he worked," said the bespectacled O'Brien, a racing wizard with the hint of an older Harry Potter about him.
Before the race, he had told of the horse clocking 11-second splits for four furlongs running. In other words, covering half a mile in about three quarters of a minute. Breathtaking.
"The way he goes from A to B so easily makes him unique. Horses like that don't normally get a mile-and-a-half," he said afterwards.
"To get a mile and a half like that at Epsom, every sinew in his body was going to be tested - he had to settle, quicken and handle the hurly burly and everything but what makes him different is his natural pace."
He said some of the stable's horses had been sick earlier in the year, and that a wet spell in Ireland had made the preparation of Australia, who was third in last month's 2,000 Guineas at Newmarket, less smooth than with his previous winners.
Magnier's wife Sue - who owns Australia with Coolmore backers Michael Tabor and Derrick Smith, plus Malaysian businessman Teo Ah Khing, registers the names for the top Ballydoyle horses, sometimes waiting patiently for the right animal to match a grand moniker.
And so the Australian, Vincent's daughter, chose Australia and he followed Galileo, High Chaparral (2002), Camelot and last year's victor Ruler Of The World as Epsom champions.
"We have a business and the stud in Australia (in the Hunter Valley) so I suppose the idea was that we'd wait to have a good horse to give the name to and he might stand as a stallion there," said Magnier.
This fifth win in the big Epsom race for O'Brien was made all the more special that his son Joseph was the rider, triumphing for a second time two years after Camelot.
"We've made no secret about what we think about this horse and I knew I was on the best one so just wanted to give him a chance to do himself justice," said Joseph.
At nearly 6ft tall, weight is an issue for the pencil-thin rider, but he can deliver on the big occasion. It must be in the genes.
When jockey and horse made their way to the start, a familiar face cheekily waved enthusiastically at the pair.
Rider, game face on, ignored the gesture at first. When it happened a second time, he broke into laughter.
Relaxed, happy, no fears. Why would you when the old man has made sure everything is in place?