Jockey Pat Cosgrave given six-month ban for 'improper riding'
Last updated on .From the section Horse Racing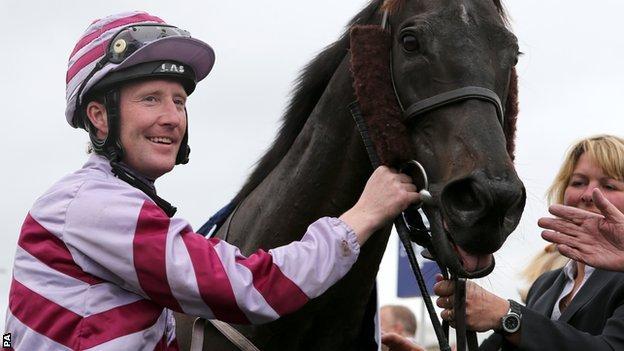 Jockey Pat Cosgrave has been banned by the Emirates Racing Authority for six months for 'improper riding'.
Cosgrave, 31, was adjudged to have moved his horse Anaerobio's line to allow the Mike De Kock-trained stablemate Vercingetorix a clear run to victory in the Jebel Hatta on 8 March.
Vercingetorix won the Group 1 race and Anaerobio finished third.
The Professional Jockeys Association has offered support should the Northern Ireland rider decide to appeal.
"I can confirm that the PJA is in contact with Pat Cosgrave and will advise/take advice on a possible appeal," PJA chief executive Paul Struthers confirmed on Twitter.
The British Horseracing Authority (BHA) said that, under their rules, the suspension would also apply to Britain should the Emirates Racing Authority (ERA) make such a request.
"We are aware of the reports regarding the suspension imposed upon Pat Cosgrave," a BHA statement read.
"Should the ERA request that BHA reciprocate any suspension then we would do so, as is required under our rules."
The BHA also confirmed that the ERA cannot make a reciprocal suspension request until the jockey has completed the appeal process.
The ERA ban has been backdated to 17 March and will expire at midnight on 17 September.