Sprinter Sacre: Champion chaser's heartbeat normal after gallop
Last updated on .From the section Horse Racing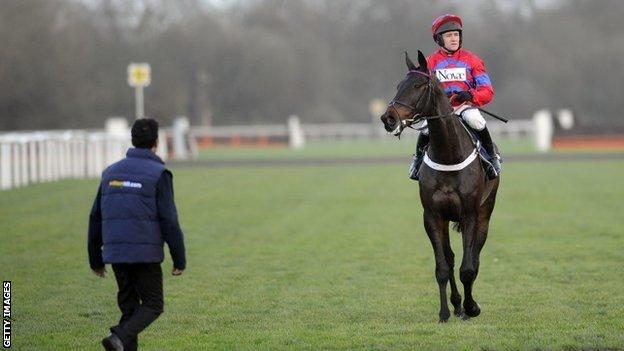 Top steeplechaser Sprinter Sacre successfully came through a gallop on Friday just a week after his future seemed uncertain.
Vets said the eight-year-old had an irregular heartbeat but the condition stabilised on its own.
His heartbeat was "perfectly normal" after Friday's gallop, said Henderson.
"We can't tell an awful lot at this stage, but his heart was normal this morning and remained so through exercise," he said.
Sprinter Sacre won the Queen Mother Champion Chase at the 2013 Cheltenham Festival by 19 lengths and is the highest-rated horse in jump racing since the 1960s.
He was fittted with special pads for Friday's gallop, which transmitted an electronic signal back to a monitor and vet Celia Marr in a Land Rover which followed him.
Jockey Barry Geraghty described the gelding as "the Pele of horse racing" after his runaway Cheltenham victory.
Geraghty pulled him up halfway round the two-mile race at Kempton in his first outing since he won the Champion Chase at Punchestown in April.
Sprinter Sacre remains favourite to retain his title at Cheltenham despite recent events.
"The veterinary team will have to go and download the evidence, but as long as everyone is happy, we'll get him back into a normal routine for a couple of weeks," added Henderson.
"If we feel then he is ready for something more strenuous, which will be in two or three weeks' time, then we will repeat today's process again, with Celia Marr, and see how that goes.
"It is a possibility we could then move on, but I would only do that if we thought the Queen Mother was a real possibility."