Sprinter Sacre: Steeplechaser could race again this season
Last updated on .From the section Horse Racing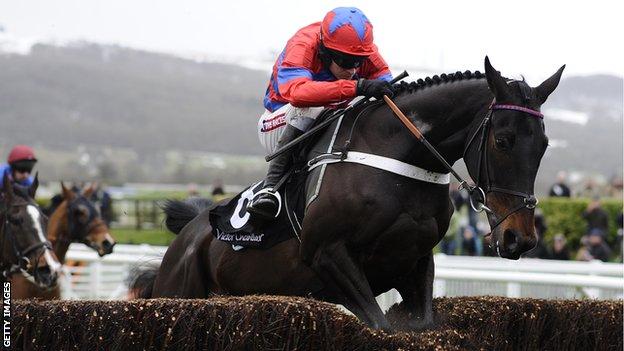 Steeplechase champion Sprinter Sacre could race again this season after his irregular heartbeat stabilised on its own, says his trainer Nicky Henderson.
But on Sunday, Henderson said Sprinter Sacre's heartbeat had returned to normal.
The horse will return to Henderson's base in Lambourn to be monitored.
The condition was diagnosed by Kempton course vets and confirmed by equine cardiologist Celia Marr on Saturday.
The plan was to allow 48 hours to see if the problem would stabilise on its own before medicine and technology were called on.
Sprinter Sacre was having his first outing since winning the Champion Chase at Punchestown in April when jockey Barry Geraghty, who has described the steeplechaser as the "Pele of horse racing", suddenly applied the brakes and trotted back around half the circuit before dismounting in front of Henderson.
Denman, who won the 2008 Cheltenham Gold Cup, had a similar condition, known as atrial fibrillation, which causes a fast and erratic heartbeat.
The Paul Nicholls trained horse had an operation to correct a problem in September 2008 and although he was beaten on his racecourse return the following February, he finished second to Kauto Star back at Cheltenham and then won the Hennessy Gold Cup at Newbury a few months later.
Speaking on Saturday, Henderson said: "This is apparently virtually identical to the situation that Denman went through.
"In Marr's opinion the reason for these situations is that both horses are supreme athletes and they are more likely to suffer from these problems due to the size of their hearts, which in both cases are unusually large.
"Because of the muscle density around the heart, it can cause this situation.
"When you get into the situation of what you might call superior athletes, they probably do all have big hearts.
"Big hearts are great things to have, but they also can cause problems, simply because there is more of it and things that can go wrong with it."