British Horseracing Authority announces tighter drugs measures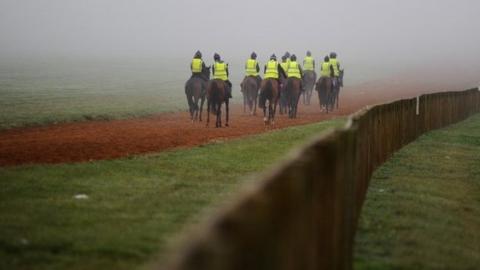 The British Horseracing Authority will put greater resources into anti-doping measures after completing a review of their control procedures.
The findings come in the wake of trainers Gerard Butler and Mahmood Al Zarooni being banned for five and eight years respectively.
The BHA will double testing in training samples and post-race samples will increase by 20%.
They have also improved their deal with the Horseracing Forensic Laboratory.
The BHA's agreement with the HFL has been extended, with lower per-unit sampling costs, as well as the horse racing body increasing investment in research, as part of the conclusions of the review launched in May.
In April, Godolphin trainer Al Zarooni, who gave steroids ethylestrenol and stanozolol to horses, was banned for eight years, with 15 horses trained by him banned for six months.
In December, Butler was banned for injecting four horses with Rexogin, a product designed for human use, which contains the anabolic steroid stanozolol, as well as using Sungate, which contains traces of the steroid, on five horses.
BHA chief executive Paul Bittar said: "The two high-profile investigations this year have brought BHA's anti-doping and medication control policy into the spotlight, and highlighted the need for an appropriately robust strategy towards doping control.
"The objective is that via enhancements to our testing programme and strategy, as well as the significant penalties handed to those who have breached the rules this year, we increase the deterrent against the use of prohibited substances."
The revised policy will be adopted from 1 January 2014 and will be reviewed quarterly.