Gerard Butler: Trainer withdraws appeal over five-year doping ban
Last updated on .From the section Horse Racing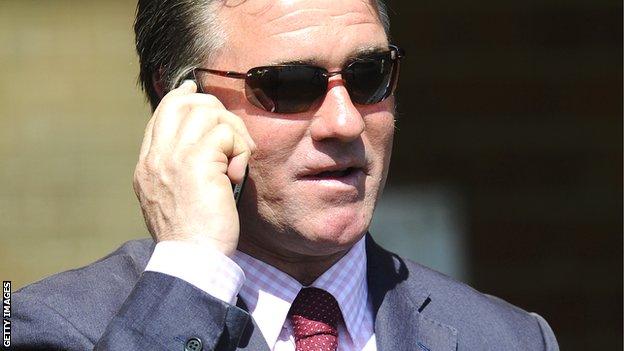 Trainer Gerard Butler has withdrawn his appeal against a five-year disqualification imposed by the British Horseracing Authority for doping.
The 47-year-old admitted injecting four horses with Rexogin, a product designed for human use, which contains the anabolic steroid stanozolol.
He also used Sungate, which contains traces of the steroid, on five horses.
Newmarket trainer Butler previously blamed his own naivety, describing the incident as "one disastrous lapse".
Butler, who 10 days ago insisted he would appeal against his suspension, will have to reapply for his licence once his ban is complete.
There will be no guarantee that he will be allowed to return to the sport.
While nine other trainers escaped punishment in August after their horses were found to have been given Sungate, charges were brought against Butler, who admitted he had personally injected horses contrary to veterinary rules.
In the subsequent hearing Butler admitted buying five boxes of Rexogin, used by human bodybuilders, on the internet and injecting it into the fetlock and knee joints of Azrag, Zain Eagle, Zain Spirit and Prince Alzain.
Rexogin contains 10 times more stanozolol than Sungate.
British Horseracing Authority's disciplinary panel said Butler's decision to inject the horses himself was "consistent with the underhand and covert manner in which he purchased the drug".
The governing body added that his actions were "an appalling breach of his duty to look after the interests of the horses in his care".