Jockey Timmy Murphy banned for 'altercation' in weighing room
Last updated on .From the section Horse Racing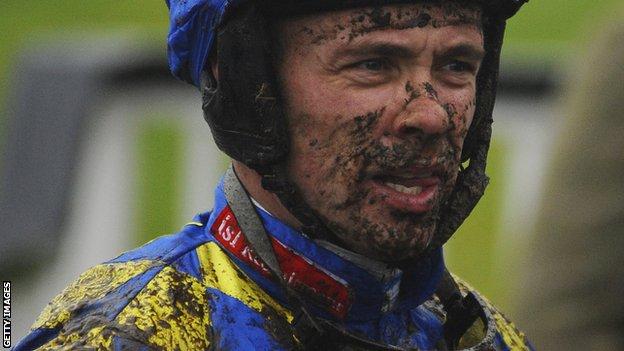 Jockey Timmy Murphy has been given a nine-day ban for his part in an altercation in the Newbury weighing room.
Murphy suffered a dislocated shoulder while being restrained during a scuffle with fellow jockey Dominic Elsworth.
But a British Horseracing Authority inquiry heard Murphy, 39, was at fault.
In a statement the BHA said: "The stewards found that Murphy was the instigator and main protagonist in two altercations."
Murphy had to give up his ride on Our Father in Saturday's Hennessy Gold Cup and both jockeys were asked to attend an inquiry at Wincanton on Thursday.
Stewards interviewed Murphy, Elsworth, Professional Jockeys' Association chief executive Paul Struthers and valet Chris Maude.
In addition to Murphy admitting his part in the row, the stewards found he suffered a dislocated shoulder while being restrained by Maude.
Murphy, who won the 2008 Grand National on Comply or Die, is suspended from 19-22 and 26-30 December.
The ban means Murphy will miss the King George meeting at Kempton, the Welsh National fixture at Chepstow and the Lexus Chase at Leopardstown.
Stipendiary steward Paul Barton said: "On the Friday evening we knew Timmy Murphy had to go to hospital but we didn't know why, although overnight it clearly became obvious something had happened.
"Timmy Murphy has confirmed there were two incidents in the changing room, both of which were instigated by him.
"He admitted instigating them, and apologised to Dominic Elsworth.
"The second incident happened probably not long after the first one, and Timmy Murphy's shoulder was injured when he was restrained by the valet."