Frankie Dettori leads Al Shaqab's battle for racing supremacy
Last updated on .From the section Horse Racing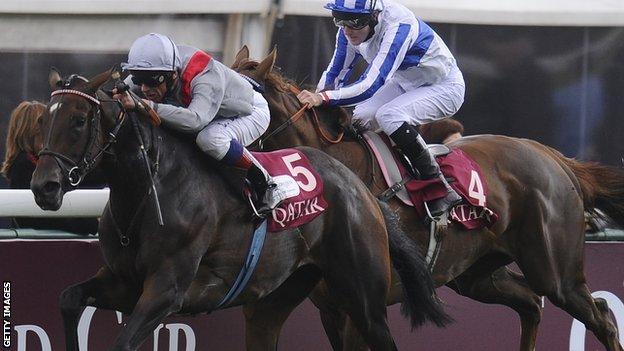 Qatar v Dubai v Ireland v the Rest of the World - the foundations have been laid for a new battle to be the leading global force in horse racing.
At the centre of this multi-million pound sporting rivalry will be flat racing's long-time poster boy Frankie Dettori as he seeks to put a disastrous year behind him.
After losing the plum job with the Godolphin empire of Dubai's ruler Sheikh Mohammed, a six-month drugs ban and serious ankle injury, the British-based Italian now looks to be sitting pretty on the sidelines.
On Friday, the ambitions and investment of his new employer - Qatar's wealthy Sheikh Joaan Al Thani - became clearer. And he means business.
"Al Shaqab Racing is one of the emerging forces in thoroughbred racing," said spokesman Nasser Sherida Al Kaabi during a press briefing at London's plush Dorchester Hotel in Park Lane.
"Our ambition is to have the most successful horse racing organisation in the world and to achieve that we need the best manpower, the best horses, the best trainers."
The sheikh's grey and maroon racing silks have already been taken to big-race victories by the likes of impressive Prix de l'Arc de Triomphe winner Treve.
But while he will retain those personal colours, a new set will be sought for the burgeoning Al Shaqab Racing brand.
A stud farm in the UK or Ireland will be sought to complement its existing base in Normandy, France.
Dettori, 42, is seen as "a major asset" in the master plan. Once Sheikh Mohammed's golden boy, he now has a golden ticket with an emerging rival.
The three-time champion was courted by Irish racing's Coolmore enterprise, spending a week around trainer Aidan O'Brien's Ballydoyle yard in Tipperary as he neared a comeback six months ago after his ban for using cocaine.
But with no deal apparent, and struggling as a freelance, the Qataris came calling.
"We approached Frankie at a time when nobody trusted him, and we gave the trust in him. He deserves this trust as he is one of the most successful jockeys of all time," Al Kaabi told BBC Sport.
"I think for us to seek Frankie Dettori as our retained jockey was a call that nobody could say we were wrong with. I know that some people said that maybe he could not come back to his form, but he did. He showed us what he is capable of.
"He is very ambitious. With him, I can see victory in his eye."
In truth, Dettori was only starting to get going again when he suffered a serious ankle injury which ruled him out of the Arc in October.
However, he will have an important role in Sheikh Joaan's operation, his tasks including helping a 21-year-old Qatar rider Faleh Bogunaim, who spent five months during the summer at the stables of leading Newmarket trainer Luca Cumani, himself an old mentor of Dettori.
"We hope one day he could be one of our jockeys for a Group One race and I think this would be a major joy," added Al Kaabi.
Qatar is sport's newest sugar daddy - it has secured the right to host football's 2022 World Cup despite concerns over heat and timing, and has heavily invested in Barcelona and Paris St Germain football clubs.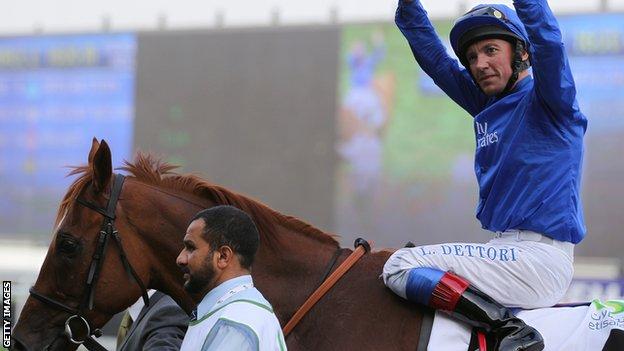 It is using sport as a promotional tool, much in the same way as Dubai and the Emirates brand has done.
Sheikh Joann's cousin, Sheikh Fahad Al Thani, already backs the new British Champions Series which brings the country's top flat races together under one banner.
Al Shaqab Racing says it wants to sponsor major events too. So why horse racing?
"The winning feeling is tremendous. It is a sport that takes your breath away. Just to be in the sport is something special. We want the sport to grow, and we want to grow with it," said Al Kaabi.
"Our main objective is to excite all our fans. This is why Treve winning the Arc was such an amazing feeling
"The UK is a very important place for us and we are going to expand in the future. We will be in the market for many years to come."
Well-connected Harry Herbert, who founded the Berkshire-based Highclere Racing syndicate, more than 20 years ago, has been brought in as racing advisor after "two very long meetings" with the sheikh.
"The exciting thing for me is this represents an opportunity to be involved with the highest level of racing with a team that is very serious about their ambitions," said Herbert, whose brother-in-law John Warren is the Queen's racing manager.
For now, Al Shaqab has 100 horses - split between a variety of trainers in Britain and France.
While "a couple" will be sent to top American trainer Todd Pletcher, the numbers are overshadowed by the hundreds trained around the world for Godolphin and Coolmore.
"Having too many horses doesn't make us better. Focusing on the great horses is a much better approach," said Al Kaabi, who listed Royal Ascot as a major target for winners next year.
One horse on the Christmas list might be Dancing Rain, the 2011 Oaks winner who is in foal to the legendary Frankel, and will be sold at Tattersalls bloodstock auction on Monday.
"We are going to be buying good horses and Dancing Rain could be one on our list," added the sheikh's director of media.
These sales are where the fascinating spending battles will unfold over the coming years. Sheikh Joaan has already started to splash his cash - including a recent record £5m for a yearling filly.
There may be a recession on, but racing could see a boom in the high-end bloodstock market as the three big powers compete.
Al Shaqab takes its name from a siege back in 1893 on the outskirts of Doha where a Bedouin tribe, led by one of the sheikh's ancestors, defeated the might of the Ottoman Empire's forces.
It was a bloody battle on horseback, which led to Qatar's independence. The skirmishes ahead on and off the racetrack might be less cut-throat, but they will be keenly fought.
"When he entered the race he wanted to be number one," said Al Kaari of the sheikh. "For him, second is being last.
"I would like to think there won't be too much 'seconditis' and the winners will be flowing."