AP McCoy's wife Chanelle on life with champion jump jockey
Last updated on .From the section Horse Racing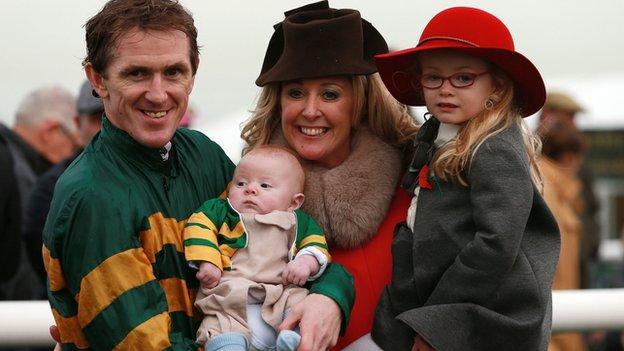 When record-breaking champion jump jockey AP McCoy was taken to hospital six months ago after a heavy fall at Cheltenham, his wife Chanelle thought his career might be over.
"He had a very bad injury back in April where his lung was punctured, and his lung collapsed, and it was very worrying," she told BBC Sport.
"I said to him: 'It's not about you any more and your career and when you're ready [to retire]. It's about two kids who want their father in one piece for when they grow up.'
"At that time I was definitely going to retire as a jockey's wife, sitting beside him in the hospital bed."
As witnessed throughout a career that has just seen the 39-year-old reach the unprecedented milestone of 4,000 jump-racing winners despite a catalogue of broken bones, McCoy defied the injuries.
While aware of the perils - he has regularly visited his friend JT McNamara, who was paralysed in a fall at the Cheltenham Festival a month before McCoy's latest injury - he keeps going by considering himself "unbreakable".
The Northern Irishman wanted the fact he was in intensive care kept quiet, thinking instead of getting back to fitness and targeting a 19th consecutive champion jockey's title.
"As the weeks and months go on, those injuries get forgotten about," said his wife of seven years, who hails from County Galway.
"In his mind, it's back to business, back to 'I love what I do and it's dangerous, but this is what I've chosen to do and I'm not ready to retire yet'."
When McCoy returned to action in May, nearly three weeks after the 2013-14 season had started, he trailed then championship leader Jason Maguire by 16 wins. He is now more than 60 ahead.
"He always says the most important months for him are May, June, July. That's where he usually gets ahead of the rest of the jockeys," said Chanelle.
"He definitely went back a little bit early. He was able to ride perfectly well, but the level of pain he had when riding was very severe. It was probably the worst I have seen him."
Jockeys have to pass fitness tests before being cleared to ride in races, but McCoy was keen to get back on the horse, riding out at trainer Jonjo O'Neill's Jackdaws Castle stables in Gloucestershire.
"I have seen him leave the house in the morning with a broken ankle, and a broken thumb. He has ridden with a broken collarbone, and that would be unknown to people and he's able to manage the pain," added Chanelle.
Asked if he had a high pain threshold, the 37-year-old said: "Absolutely. It's off the Richter Scale.
"He says that if you can mentally cope with the pain, you can physically cope with it.
"His attitude to injuries sometimes can be quite peculiar. When he did have that fall in April and he broke his ribs and had a cracked sternum, as well as the lung problem, he said it's quite good as a jump jockey.
"He says you get falls and you get kicked about, but it keeps your body strong and robust. I just thought 'my goodness, I can't believe you would say something like that'. He said you need to be kept on your toes.
"But I said it's a contribution to wear and tear on your body. It's deteriorating your resilience, and he just looked upon it the other way. In a funny way, you can kind of see where he's coming from."
McCoy is an obsessive. It is estimated he has spent more than a year of his life in hot baths and saunas, wasting away to make a riding weight of 10st 3lb when he is naturally nearer 12st.
Winning is what motivates him, breaking records, setting new landmarks. No other jump jockey has ever ridden 3,000 winners, let alone 4,000.
"It can be portrayed as selfish but you are living with a professional sports person," said Chanelle, who first met him in 1996.
"Any sports champion will tell you it's pure fear that drives them, because it's the fear of not being number one the next year and the next year."
However, she said her husband's outlook has changed with marriage and the arrival of their daughter, Eve - who is six on Friday - and three-month-old son Archie.
"He definitely has mellowed. He is much easier to live with in the last six or seven years," she said.
"That has come with him being satisfied that he is not a one, or two or three-season wonder. He has proven his sustainability and that has given him a bit more peace of mind.
"Now with the kids being here, it is not totally about him any more. He has happily accepted the second position in the house because for him the kids are number one now."
In May of next year the rider turns 40, an age beyond which few jump jockeys remain at the top in a sport riddled with risk.
McCoy already has new targets, including beating his former boss Martin Pipe's record of training 4,182 winners, even though he has effectively already done so as Pipe's tally includes flat races.
But could this one-off, the ultimate mould-breaker, now seek another unthinkable milestone - 5,000 victories? After win number 4,000 at Towcester, on Mountain Tunes, he said: "Nothing is impossible. Who knows?"
Chanelle said: "I know that the most important thing for him is to be champion jockey each year. Every year that is his ultimate goal.
"I would quite confidently say that 5,000 is unattainable and he knows that himself.
"If you look back at when he has ridden his one, two, three and now 4,000th winner, there is a five-year gap between each of those achievements.
"The thought of him riding until he is 44 or 45, no. I will personally take his licence and get the scissors at it because I wouldn't like to see him going at it until he's 45, purely from a safety point of view.
"He genuinely doesn't know when he will retire. I'm trying to get an answer out of him because I was hoping to book a nice long holiday for the family next May but I can't get a straight answer.
"He absolutely loves what he does every single day he goes racing and he will never want to retire.
"He's intelligent enough to know not to go too long. If he felt in any way he was not riding to the best of his ability he would be the first to retire himself.
"When he does retire, for him it will be a massive bereavement. For me, that's the only way to describe it."
Riding around Britain and Ireland, sometimes seven days a week, in a sport that has only four blank days in the calendar, brings inevitable consequences for the lives of the jockey and those around him.
"I totally appreciate the demands in his sport. I get it as a wife that there are emotional and social sacrifices to be made," said Chanelle, who runs her own pharmaceutical business.
"It just works for us because I have that level of independence."
The couple dated after first meeting in 1996 and split in 2003 when McCoy, by his own admission, became difficult to live with and sparked a big bust-up when angrily rebuking her for having a crafty cigarette at his home.
He apologised and they got back together. She has learned to live with the exacting demands, the hospital visits, and the ever-present dangers that jump racing brings.
"People say to me it must be awful watching your husband ride and you must get really nervous watching him, but I don't," she said.
"I suppose we've been together for so many years that I've seen every kind of injury possible with him. On a day-to-day basis, if I go racing or I'm watching at home, I don't get nervous.
"Even when he falls, you learn to judge the severity of the fall when you watch him on a regular basis.
"If he falls, and he moves his legs or his arms, then that's great, you can totally relax - it's not his back, or his neck, he's not paralysed.
"If he ends up with a broken collarbone or a broken arm, that's okay. That's a pretty standard run-of-the-mill type injury and it's nothing that would concern me too much."
Chanelle believes it would be good if her husband could 'kick back' after putting himself through years of physical and mental aggravation.
Thirty boxes are being built for horses on land close to their Berkshire home, but he appears reluctant to try a training career.
His first racing novel Taking The Fall was published on Thursday and the publishers are keen on a second book.
Could there be another chapter in the McCoy tale?
When the 'new AP' - little Archie Peadar - was born in August, bookmakers offered odds (33-1) on him being a future champion jockey.
Chanelle sighs at the prospect: "I think it's one thing going through probably the last 15 years with Anthony and the injuries and the hospital visits, but I would really struggle to go through it with my son.
"I do think Anthony has exceptional mental power and attitude that is very unique. Whether Archie will have that or not, I don't know.
"I wouldn't like to see him be a jockey."
She joked: "I'll definitely be giving him extra portions on his plate just to make sure he can't do the weight."