No racing link to Newmarket drug seizure - BHA
Last updated on .From the section Horse Racing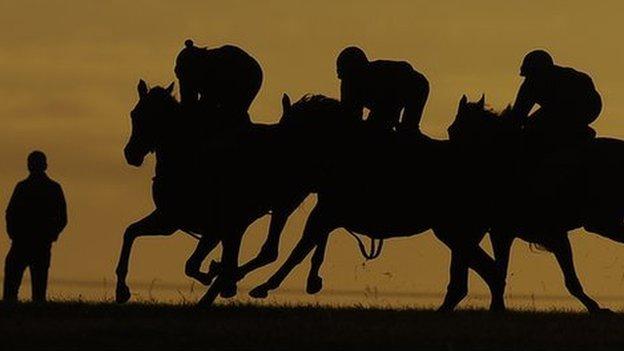 The British Horseracing Authority says it has been reassured that a seized consignment of veterinary products not licensed for use in Britain has no link to the racing industry.
The products were taken from Moorley Farm East in Newmarket in August.
The farm is listed as owned by Darley Stud Management, the banner company of Sheikh Mohammed's breeding operation.
The Sheikh's then-Godolphin trainer Mahmood Al Zarooni was banned in April for doping offences.
Samples taken from a number of horses in his care were found to contain traces of an anabolic steroid.
BHA spokesman Robin Mounsey said: "This issue is a matter for Defra (Department for Environment, Food and Rural Affairs).
"The BHA became aware of the seizure from Moorley Farm as a consequence of our existing working relationship with Defra, as two regulatory bodies with interests which are occasionally shared.
"Defra notified us of the seizure of veterinary care products which are not all licensed for use in the UK. They also clarified that in the view of the Defra there is no link between the seizure and the racing industry and the products were not intended for use on thoroughbreds.
"The property in question is not licensed by the BHA and we understand it is not part of Darley's racing operation."
Darley Stud director Liam O'Rourke said: "I am not in the country at the moment, I haven't read the story and I am keeping it at arms length.
"It [Moorley Farm] is owned by Darley, but we have nothing to do with the day-to-day running of it.
"I couldn't tell you anything about the people that work there. There is no connection on the thoroughbred side."
A posting on the Defra website read: "Moorley Farm East, Newmarket. 124 veterinary medicinal products were seized because they were not authorised in the UK and had not been imported into the UK in accordance with the regulations.
"These medicines, in varying quantities, were to be used on horses and included injectables, anaesthetics, anti-inflammatories and antibiotics."