Royal Ascot: Thomas Chippendale dies after Hardwicke Stakes win
Last updated on .From the section Horse Racing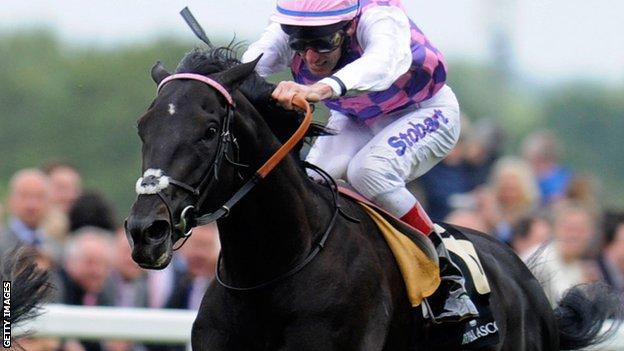 Hardwicke Stakes-winning horse Thomas Chippendale died of a suspected heart attack shortly after his victory on the final day of Royal Ascot.
Lady Cecil's charge, ridden by Johnny Murtagh, had won the Group Two race in thrilling fashion.
But shortly past the post, the four-year-old colt collapsed and, following treatment on the racecourse, was pronounced dead.
"It's just devastating the way it's finished," said Murtagh.
"It should have been a great win. He lost his balance and I don't know what happened to him."
An emotional Lady Cecil, who has temporarily taken over the Warren Place yard's training licence following the recent death of her husband Sir Henry Cecil, added: "It was devastating, but at least it was quick and he wouldn't have felt anything.
"We didn't realise the horse had collapsed, so we came from the grandstand into the winner's enclosure feeling so happy and couldn't understand why it was rather quiet.
"Leading up to the race he was in such good form and really enjoying himself. When Luis [Villarroel, his groom] took him out for a pick of grass he was always the last one who wanted to come back in.
"We couldn't have been happier with him beforehand and he could not have won like that if he had not been a happy, sound horse."
Owned by Sir Robert Ogden, Thomas Chippendale was running in his 10th career race and he had three previous wins, including last year's King Edward VII Stakes at the Royal meeting.
Lady Cecil added: "It's so awful to go from one emotion to another, from a high to a low. It puts such a dampener on the day. But we have to carry on.
"I feel so sorry for poor Sir Robert. He'd been looking forward so much to this day and I just don't know what to say."
Officials at Ascot Racecourse offered their sincere condolences to the connections of Thomas Chippendale after the incident.