Clive Brittain: Newmarket trainer admits using Sungate drug
Last updated on .From the section Horse Racing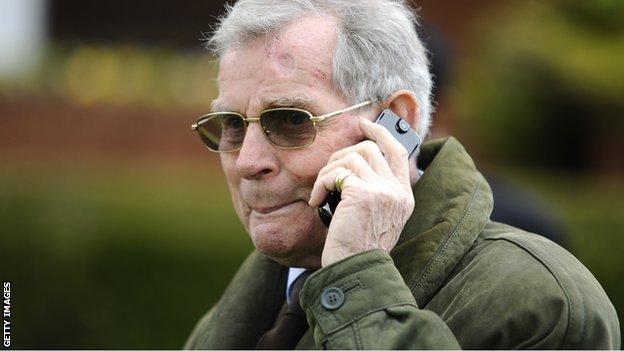 Classic-winning trainer Clive Brittain has admitted using the Sungate drug on some of his racehorses but insists they were out of training.
He is the second Newmarket trainer, after Gerard Butler, to talk about using a joint treatment that contains banned anabolic steroid stanozolol.
Butler faces a disciplinary inquiry and could be banned, but Brittain, 79, told the Guardian he expected no punishment.
The British Horseracing Authority has not responded to Brittain's comments.
Brittain said all the horses treated were recovering from serious injury.
"They weren't in training, they were at rest. These horses were months away from a racecourse," he said.
"It would only have been the horses that had fractures we'd be talking about, six or seven at the most."
The racing world has been shocked by the doping scandal that broke in late April when the Newmarket-based Godolphin trainer Mahmood Al Zarooni was banned for eight years by the British Horseracing Authority (BHA) after he admitted giving anabolic steroids to 15 horses.
A further seven later tested positive and all 22 - including former 1,000 Guineas favourite Certify and St Leger winner Encke - have been suspended from racing for the Godolphin team owned by ruler of Dubai, Sheikh Mohammed bin Rashid al Maktoum.
Butler later admitted giving horses the Sungate product for injured joints, but said he had been assured by vets that the substance did not breach rules.
The 47-year-old, who is charged with injecting the horses himself after nine horses tested positive following a BHA visit in February, could face a penalty from a fine to a 10-year ban if found guilty.
He said more than 100 horses in Newmarket would have been given the same drug on veterinary advice.
Brittain insisted the time between each of his horses being treated and returning to the racecourse was so great that the effect of any steroid would have worn off, and he would be "surprised" to be charged.
Anabolic steroids are banned for racehorses in training in the UK, but can be be given to horses who are out of competition in exceptional circumstances.
Asked whether he would have allowed the use of Sungate, had he known it contained an anabolic steroid, Brittain said: "Certainly not, because we've never used anything like that and never would."
The BHA has declined to respond to the comments from the trainer, who has won every British Classic except the Derby (he trained Terimon, runner-up as a 500-1 shot in 1989) and triumphed at the 1985 Breeders' Cup with the Sheikh Mohammed-owned filly Pebbles.
"The investigation into the use of Sungate remains ongoing and we will not be making any further comment at present," said spokesman Robin Mounsey.
In an earlier statement, the governing body said it had spoken to several trainers to establish the extent of the use of Sungate, which was developed by an Italian company.